ICOs (initial coin offerings) allow you to invest in new cryptocurrencies before they trade on exchanges. Not only will you be able to invest in a new project from the ground up – but ICOs typically offer a discount to early investors.
The challenging part is knowing which ICOs to invest in. In this guide, we reveal 16 upcoming ICOs that could produce significant gains.
The 16 Best Upcoming ICOs to Watch
Below you'll find the 16 best upcoming ICOs for maximum upside potential:
Bitcoin Minetrix ($BTCMTX) – A brand new presale allows for Bitcoin mining through Ethereum, in an eco-friendly and low-cost stake-to-earn ecosystem through a unified dashboard interface. This ICO offers high PoS yields with income from both staking and mining.
Bitcoin BSC ($BTCBSC) – Brand new PoS BEP-20 token running on the Binance Smart Chain aiming to recreate BTC with new utility and mechanics. Presale is split into two phases with a hard cap of 6.125M, ecofriendly staking mechanics also encourage long term participation. Trending presale has already raised over $4k with $BTCBSC tokens available at a discounted presale price of $0.99.
Launchpad XYZ (LPX) – If you're more interested in utility tokens than meme coins, Launchpad is the ICO for you. It's developed an ecosystem for consumers who want exposure to Web 3.0 investments. Not only does it offer real-time trading signals on the next altcoins to explode, but access to fractional real estate and fine art. Launchpad has also built a DEX that supports NFTs. This ICO is still ongoing and has raised nearly $1.6 million so far.
yPredict (YPRED) – The yPredict ecosystem allows developers to create and sell AI-backed predictive models. Its models help cryptocurrency investors outperform the markets through automated chart analysis and trading signals. Traders can purchase a predictive model with YPRED tokens. If you stake YPRED yourself, you will receive a share of the subscription fees. yPredict is in the midst of its ICO campaign – over $3.7 million has been raised.
Chimpzee (CHMPZ) – This newly launched ICO is attracting waves of sustainable investors. It's a win-win situation for CHMPZ holders, as passive income can be earned while helping endangered animals. Not to mention deforestation. Rewards come from staking pools, play-to-earn games, and an NFT marketplace. Sustainable merchandise will also be sold. This ICO is offering an 85% upside based on current and exchange-listing prices.
eTukTuk (TUK) – There are millions of tuk-tuks in the developing world contributing to rising pollution levels. eTukTuk has created an affordable and green alternative – electric vehicle tuk-tuks made with sustainable materials. It's also developing a network of charging stations. It will initially roll out in Sri Lanka before expanding into other regional locations. The eTukTuk ICO is in stage one, so you'll currently get the lowest price possible.
Scorpion Casino (SCORP) – With a market size of over $90 billion annually, Scorpion Casino is revolutionizing a major industry. Its decentralized casino allows players to gamble cryptocurrencies on slots, table games, sports betting, and more. It comes as no surprise that Scorpion Casino's ICO has already raised nearly $1 million. The ICO is offering a 194% upside based on current prices, plus staking rewards and free casino bonuses.
Wall Street Memes (WSM) – One of the most successful ICOs in 2023 – Wall Street Memes has raised over $25 million and is now listed on the OKX exchange. Wall Street Memes is a meme coin project with over 1 million community members. Its social media memes are viewed over 40 million times a month; including comments from Tesla's CEO Elon Musk.
RizzMonkey (RZZMNKY) – If you're looking for a brand-new meme coin that's attracting a lot of ICO interest, check out RizzMonkey. The project is inspired by the 'Monkey with Rizz' videos that have attracted tens of millions of views on social media. Although RizzMonkey is currently in its third and final ICO stage, there's still a generous discount on offer. Moreover, RizzMonkey will be listed on an exchange as soon as the ICO finishes.
Patex (PATEX) – This upcoming ICO is building a layer 2 blockchain for the Latin American region. It will support cross-chain functionality and enable citizens to combat ever-rising inflation levels. It uses a proof-of-value consensus model that will reward users as they engage with the network. The Patex ICO is scheduled for September 15, 2023. It has a modest fundraising goal of just $200,000.
Stabble (STB) – Stabble is building a cross-chain decentralized finance platform for layer-1 networks. It's currently powered by Solana, Sei, Cosmos, and Nitro – but more networks will be added. Key features include cross-chain token swaps, smart order execution, and margin liquidity.  The Stabble ICO campaign will take place in late October 2023. It's initially looking to raise $50,000 – but additional funding rounds will follow. As such, this is the best chance to buy STB tokens at the lowest price possible.
Kryptview (KVT) – Kryptview is building a global data hub for the cryptocurrency trading markets. While its platform offers many features found on CoinMarketCap; Kryptview operates on a peer-to-peer basis. This means that data is extracted and packaged without human input – ensuring that it's impartial and without agenda. The Kryptview ICO will commence in late November 2023, so you have plenty of time to register. The ICO will sell 12.5% of the total KVT supply and each token will cost $0.05.
Bitfinder (BITF) – This new ICO project is building the future of search engine technology. More specifically, it's creating a decentralized search engine aimed specifically at crypto and blockchain-related queries.  Its ICO will take place in October 2023 and an initial fundraising goal of $600,000 has been set. While stage one investors will pay just $0.01 per BITF, this increases to $0.07 in the final round.
Mar3 AI (MAR3) – Mar3 AI has bridged the gap between artificial intelligence and marketing. It enables users to build instant marketing campaigns through simple text prompts. Users can also generate social media ads, not to mention unique images and videos. Its AI ecosystem is backed by MAR3 tokens, which will be sold to ICO investors on October 18, 2023. $150,000 will be raised at an ICO price of $0.022 per MAR3.
AiMalls (AIT) – Another AI-centric ICO to keep an eye on is AiMalls. It's leveraging the power of artificial intelligence to offer a Web 3.0 shopping experience. The technology learns the user's unique interests and preferences before suggesting suitable products. AiMalls is also aimed at merchants who want to sell their products in the Web 3.0 era. AIT tokens sit at the heart of the AiMalls ecosystem. AiMalls's ICO will take place in mid-October, with $100,000 initially being raised.
Spin (SPIN) – Spin is developing a decentralized trading platform on the NEAR blockchain. This will provide traders with a fast, efficient, and cost-effective way to buy and sell cryptocurrencies. Aimed at experienced traders, Spin will support high-level charts and technical indicators, plus on-chain order books. The Spin ICO will take place in Q4 2023. There are three stages to the ICO, which aims to raise $3.15 million.
The projects on the above upcoming ICO list are reviewed in the following sections of this guide.
Reviewing The Top New Crypto ICOs
You'll need to consider the risks before investing in new crypto ICOs. While some ICOs go on to generate gains of over 10,000% – others crash and burn. Below, we examine the 16 best upcoming ICOs for 2023.
1. Bitcoin Minetrix – Brand New ICO Revolutionizes BTC Mining With Eco-Friendly Stake-To-Mine Model
Bitcoin Minetrix ($BTCMTX) is at the cutting edge of Bitcoin mining, providing an opportunity for ordinary individuals to take advantage of rewards. This is relevant because the Bitcoin mining industry is dominated by a small number of centralized mining companies with expensive hardware.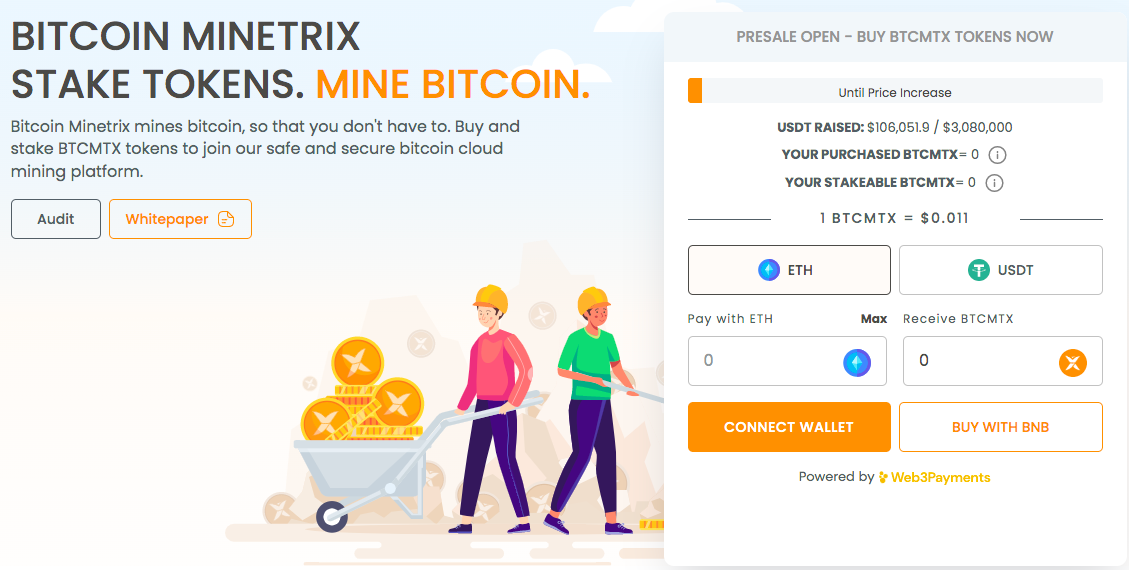 Right now, it is difficult, if not impossible, for anybody to compete in the Bitcoin mining game. Bitcoin's proof-of-work mining system is also extremely bad for the environment. This is where Bitcoin Minetrix steps in, providing an Ethereum-powered stake-to-mine system where users stake tokens, burn cloud mining credits, and receive rewards for doing so. 
Bitcoin hashing power is converted into rewards, but through an Ethereum architecture. This is a much more accessible and eco-friendly design. The entry cost is just $10 and all mining activity can be monitored from a single dashboard. It could not be easier to mine Bitcoin through this new presale. 
APY yields with this campaign are currently 77,112%, though such yields will likely go down drastically with time. The price per token is $0.011 and this will rise to $0.0119 in the final stage of the 10-stage presale. In terms of both APY reward and price entry, it's better to get in early. There are a total of 4 billion $BTCMTX tokens, of which 2.8 billion are available in the presale.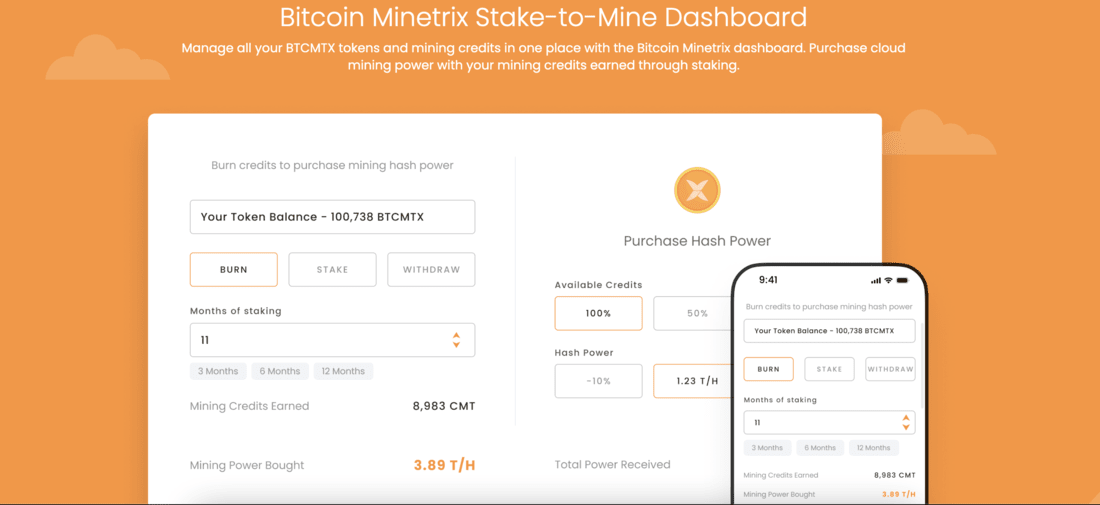 This is our top pick as a crypto presale. It has a unique concept that might be of interest to individuals who want to take part in BTC mining rewards. It also offers huge yields.
This campaign has also gone through an advanced manual smart contract audit, and zero issues were found.
More information can be obtained from the official Bitcoin Minetrix Whitepaper, as well as the project socials – Twitter and Telegram.
| | |
| --- | --- |
| Hard Cap | $32 Million |
| Total Tokens | 4 Billion |
| Tokens available in presale | 2.8 Billion |
| Blockchain | Ethereum Network |
| Token type | ERC-20 |
| Minimum Purchase | $10 |
| Purchase with | USDT, ETH, BNB |
2. Bitcoin BSC ($BTCBSC) – Newly Launched PoS Token Mimicking the Tokenomics of BTC in 2011. Based on the Binance Smart Chain Presale is Offering Tokens at $0.99 with a Hard Cap of 6.125M 
Bitcoin BSC is one of the newest upcoming ICOs to keep an eye on in 2023. As a Proof-of-Stake BEP-20 token Bitcoin BSC is looking to recreate the original Bitcoin in a new light.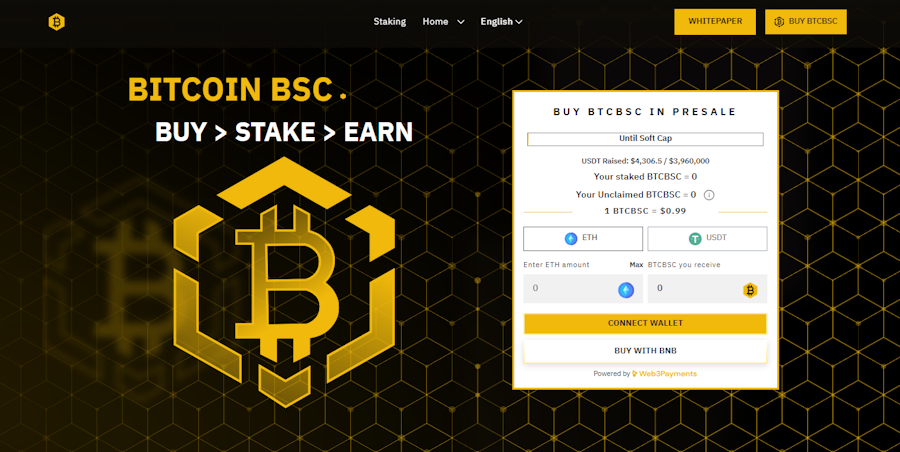 As opposed to mining tokens via PoW mechanics, users can generate passive incomes by staking their $BTCBSC coins. The greater the number of tokens staked the greater the rewards for every block confirmation. The Bitcoin BSC community will be able to access these staking rewards and earn Bitcoin BSC via the sustainable PoS staking contract. 
Driven by Bitcoin's legacy as the 'father of cryptos' Bitcoin BSC uses the same market price and circulating supply back in 2011 when each of the 6.125M BTCs were worth $0.99. 
What are the advantages of launching a new iteration of Bitcoin on the Binance Smart Chain? 
Binance Smart Chain shares the same code as the Ethereum blockchain making for better security and smart contract options. 
BSC is cheaper than most other blockchains including Ethereum as it has lower gas fees and faster transaction processing capabilities. 
BEP-20 tokens can be traded via popular dApps including trusted crypto wallets such as MetaMask and Trust Wallet, which makes the buying, selling and HODLing of $BTCBSC tokens easier and seamless. 
Bitcoin BSC ($BTCBSC) will be available from the Bitcoinbsc.io official website. Crypto-hungry investors can buy this trending PoS token with ETH & USDT, BNB & USDT or credit cards (via Wert).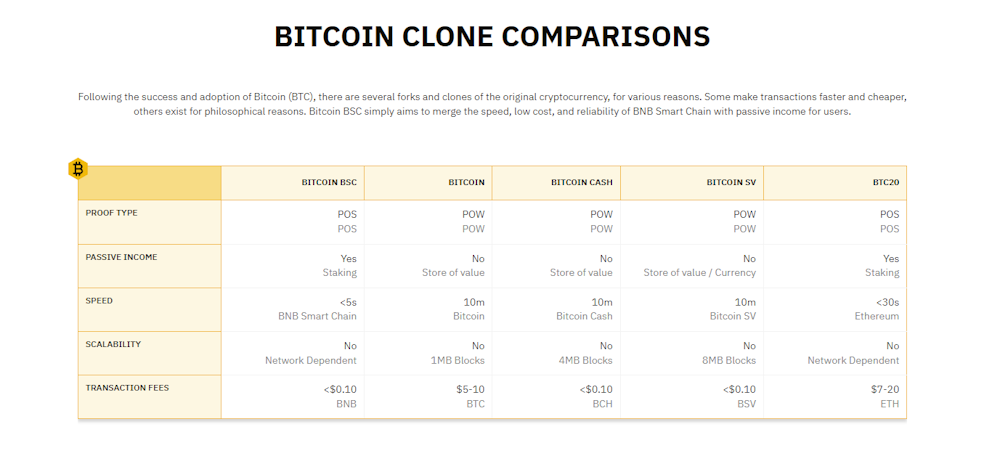 Purchases will be made possible via two presale contracts, one on ETH and one on BNB. After the presale finishes, any purchases made on the Ethereum contract will be moved over to the BNB presale contract. The community will need to use the BSC (BNB) network to claim tokens.
What about the Bitcoin BSC tokenomics? 
With a hard cap of 6.125M, any unsold $BTCBSC tokens prior to the exchange listings will be supplemented to the staking contract allowing for a maximum total supply of 21M $BTCBSC tokens. 
Once the hard cap is met, the 14.875M remaining tokens will be locked in a staking contract. This means that traders and presale participants will have the opportunity to stake their $BTCBSC holdings and receive rewards. 
Seeing as all the presale allocation (29%) is set aside for the community, 2% of the total supply is set to be pre-mined which will let the developers create a liquidity pool pair.   
All in all, the staking mechanism encourages sustained involvement and fosters the community's interest and loyalty. As the staking mechanism takes effect, the circulating supply of Bitcoin BSC grows, resulting in a more decentralized and engaged community positioned to define the token ecosystem's future.
For more information about this exciting new BEP-20 PoS project be sure to check out the Bitcoin BSC whitepaper. Additionally, interested buyers can stay informed regarding the latest developments via the Telegram and X (formerly Twitter) channels. 
Fund
% Allocation
Vesting Period
Number of Tokens
Presale
29%
No Vesting Period
6,125,000
Bitcoin BSC
69%
Vested over the required duration to simulate Bitcoin (120 Years)

– Unsold tokens from the 'Additional Over Supply' will be added to the Unlock Vesting

14,455,000
DEX Liquidity (Pre-Mined)
2%
420,000
3. Launchpad XYZ – Web 3.0 Ecosystem for Consumers Wanting Exposure to Emerging Digital Assets 
If you're more interested in ICOs with a solid long-term utility – consider Launchpad XYZ. It's building an ecosystem for consumers who want exposure to Web 3.0 projects, including emerging digital assets. For example, it offers real-time signals on which altcoins could be about to explode.
The signals are sent via the Launchpad XYZ Telegram channel. Entry is only permitted to those holding an NFT. Prices start from just $50. Additional features are available when buying a premium NFT; prices range from $200 to $25,000. Having researched the Launchpad XYZ Telegram channel ourselves, we found that it's secured some huge gains recently.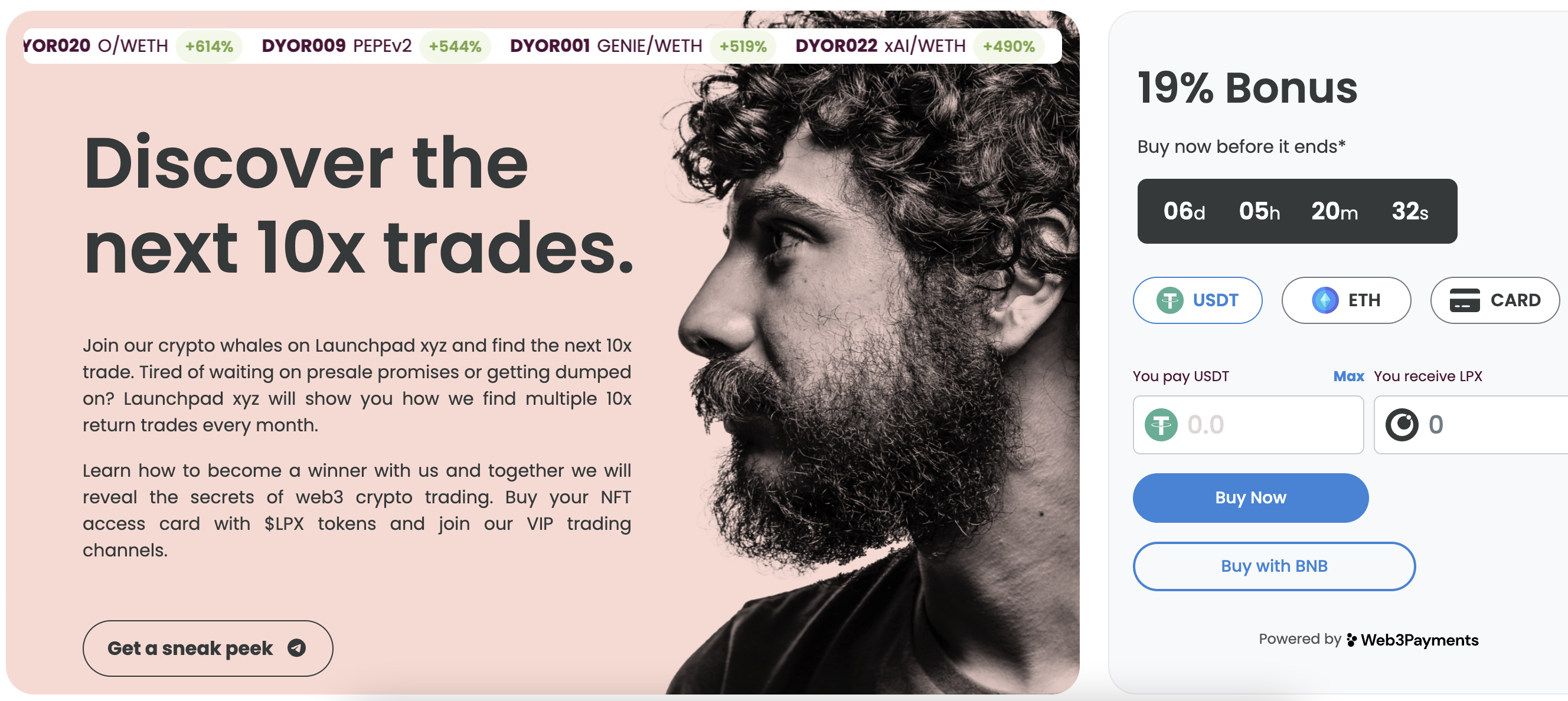 For example, it tipped Elon 2.0 and Echoes, which netted 29x and 10x respectively. In addition to its trading signals, Launchpad XYZ offers many other products to NFT holders. For example, you'll have access to private-round ICOs, something usually reserved for advisors or large-scale investors.
Launchpad will also facilitate fractional asset ownership on stores of value. This will include real estate and fine art. Tokenized assets can be traded on the Launchpad XYZ DEX. Its DEX will also support AI-driven ratings on hundreds of utility tokens. The Launchpad XYZ ICO has raised nearly $1.6 million. There is currently a 19% ICO bonus available.
| | |
| --- | --- |
| Presale Started | April 2023 |
| Purchase Methods | USDT, ETH, Transak |
| Chain | Polygon |
| Hard Cap | $12.5 million |
| Min Investment | None |
| Max Investment | None |
4. yPredict – Decentralized Marketplace for AI Predictive Models [$3.7+ Million in ICO Funding]  
yPredict is in the midst of its ICO campaign – more than $3.7 million has already been raised. It's behind a solid business framework that offers benefits to all stakeholders involved. Put simply, it's developed a decentralized marketplace for predictive models.
Developed by quants, traders, and data scientists, yPredict models will initially cover the cryptocurrency trading markets.  For example, there will be models that automate the chart analysis process, while others will distribute real-time signals on the hottest cryptocurrencies to buy. All models are backed by AI and machine learning for maximum performance.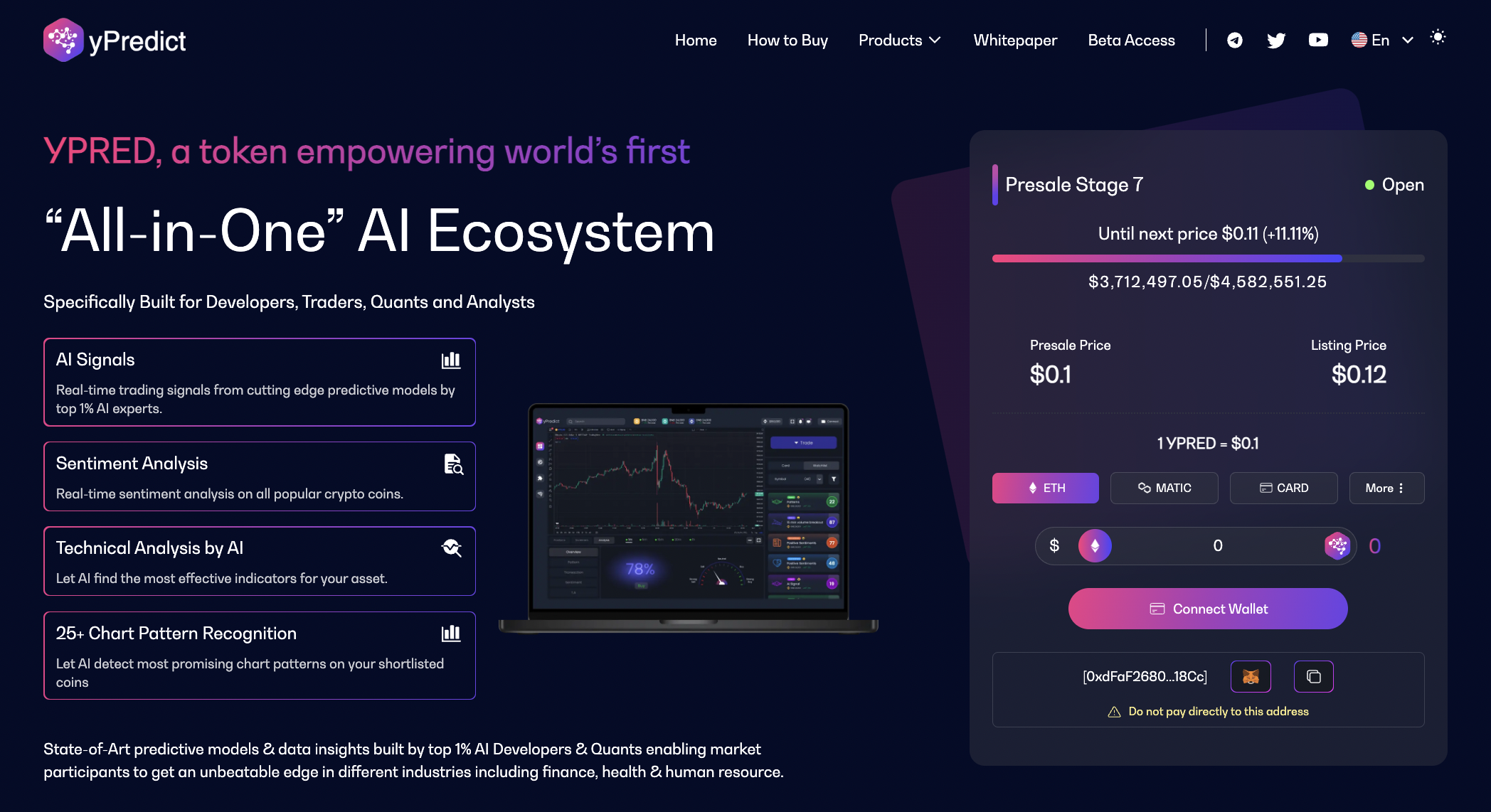 Those behind a yPredict predictive model will be paid in YPRED tokens when somebody subscribes. This motivates developers to create models that actually produce results. Moreover, predictive models are backtested by the yPredict community before being launched.  This ensures that yPredict models have credibility.
What's more, if you buy YPRED tokens yourself, you can stake them for passive rewards. This is because 10% of subscription fees are distributed to stakers. yPredict will also expand into other markets, such as SEO, healthcare, and shipping. After its ICO, YPRED will be listed on exchanges at $0.12. Right now, you can buy YPRED at just $0.10.
| | |
| --- | --- |
| Presale Started | February 2023 |
| Purchase Methods | ETH, MATIC, USDT, BNB, Card |
| Chain | Polygon |
| Hard Cap | $6,507,511 |
| Min Investment | 200 $YPRED |
| Max Investment | None |
5. Chimpzee – Sustainable Eco Project With Generous Rewards for Token Holders [Get an 85% ICO Upside Today]    
The Chimpzee ICO is in full swing and is currently in stage 11, having raised over $1.3 million so far. It's building an eco-friendly blockchain platform that connects sustainable investors with good causes. Put otherwise, by purchasing and holding CHMPZ tokens, you'll be contributing to a range of good causes.
Initially, the focus is on combating deforestation – particularly in the Amazon rainforest. Chimpzee has already donated funds to this cause, helping plant thousands of new trees. It's also fighting animal poaching. This includes endangered Elephants in Africa; it recently donated $15,000 to the WILD Foundation.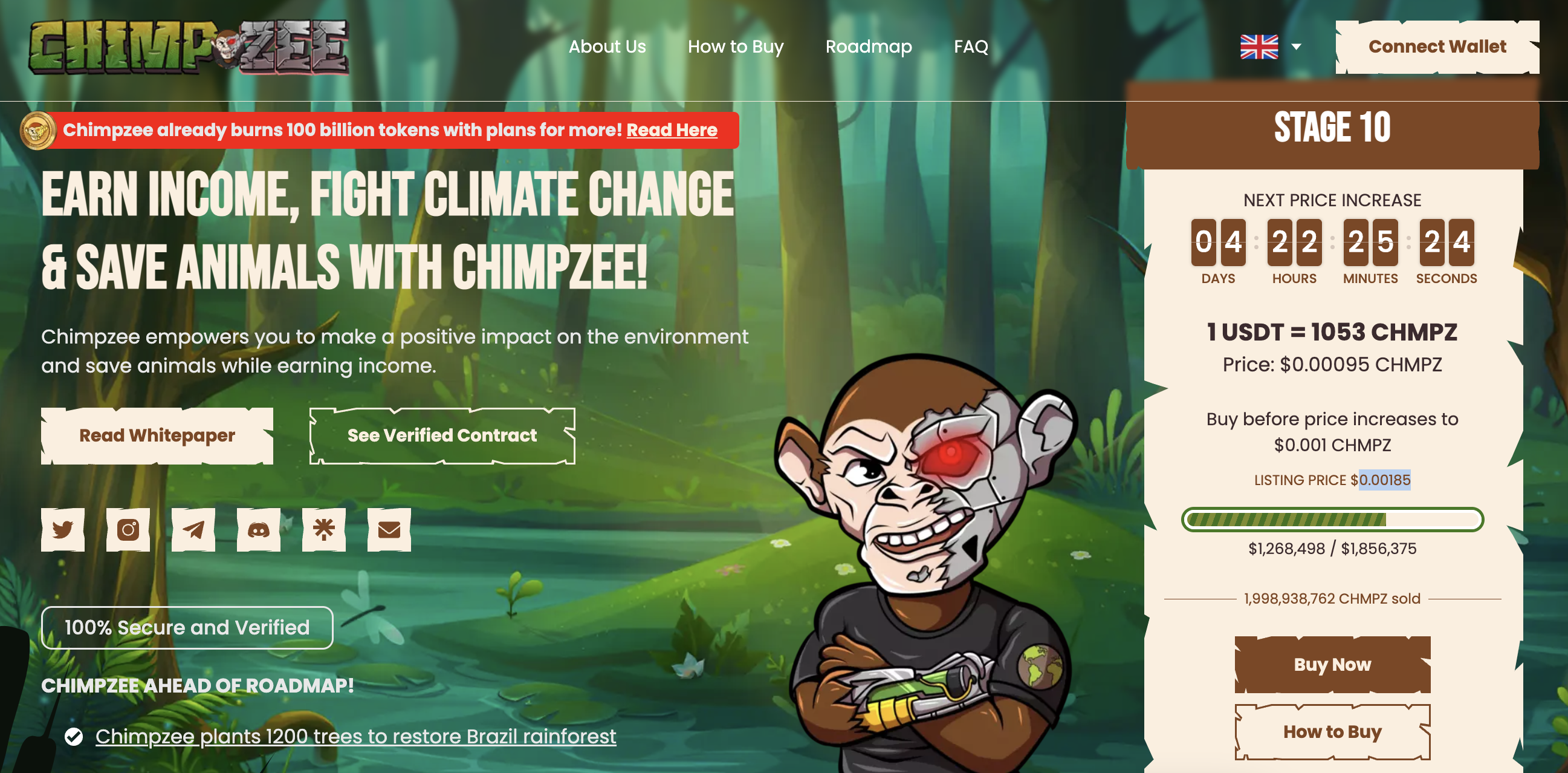 That being said, this ICO isn't just about good causes. On the contrary, you have the potential to grow wealth in multiple ways. First and foremost, the Chimpzee ICO is currently offering an 85% upside based on current prices. While today you'll pay just $0.001, CHMPZ will be listed on exchanges at $0.00185 after the ICO.
There are lots of passive income streams available too. For example, if you buy a Diamond NFT Passport, you'll earn staking interest of 20% per year. You'll also receive a share of the trading fees that the Chimpzee NFT marketplace collects. You'll also earn additional rewards by playing the Chimpzee Zero Tolerance Game.
| | |
| --- | --- |
| Token symbol | CHMPZ |
| Total supply | 200 Billion |
| ICO supply | 40 Billion |
| Network | Ethereum (ERC20) |
| Purchase methods | ETH, USDT, Credit Card |
6. eTukTuk – Help Combat Rising Carbon Emissions and Fuel Prices Through Sustainable EV Tuk-Tuks      
eTukTuk has a clear objective – to help combat rising carbon emissions and fuel prices in the developing world. In a nutshell, this new cryptocurrency project is developing a network of electric vehicle (EV) tuk-tuks. Currently, there are millions of tuk-tuks in the Asian and African economies releasing harmful gasses into the atmosphere.
In turn, there are increasing concerns about pollution and broader air quality. Moreover, the developing world is finding it more challenging to fuel their vehicles, considering record oil prices and a cost of living crisis. eTukTuk solves these growing concerns through clean and sustainable EV tuk-tuks that are affordable.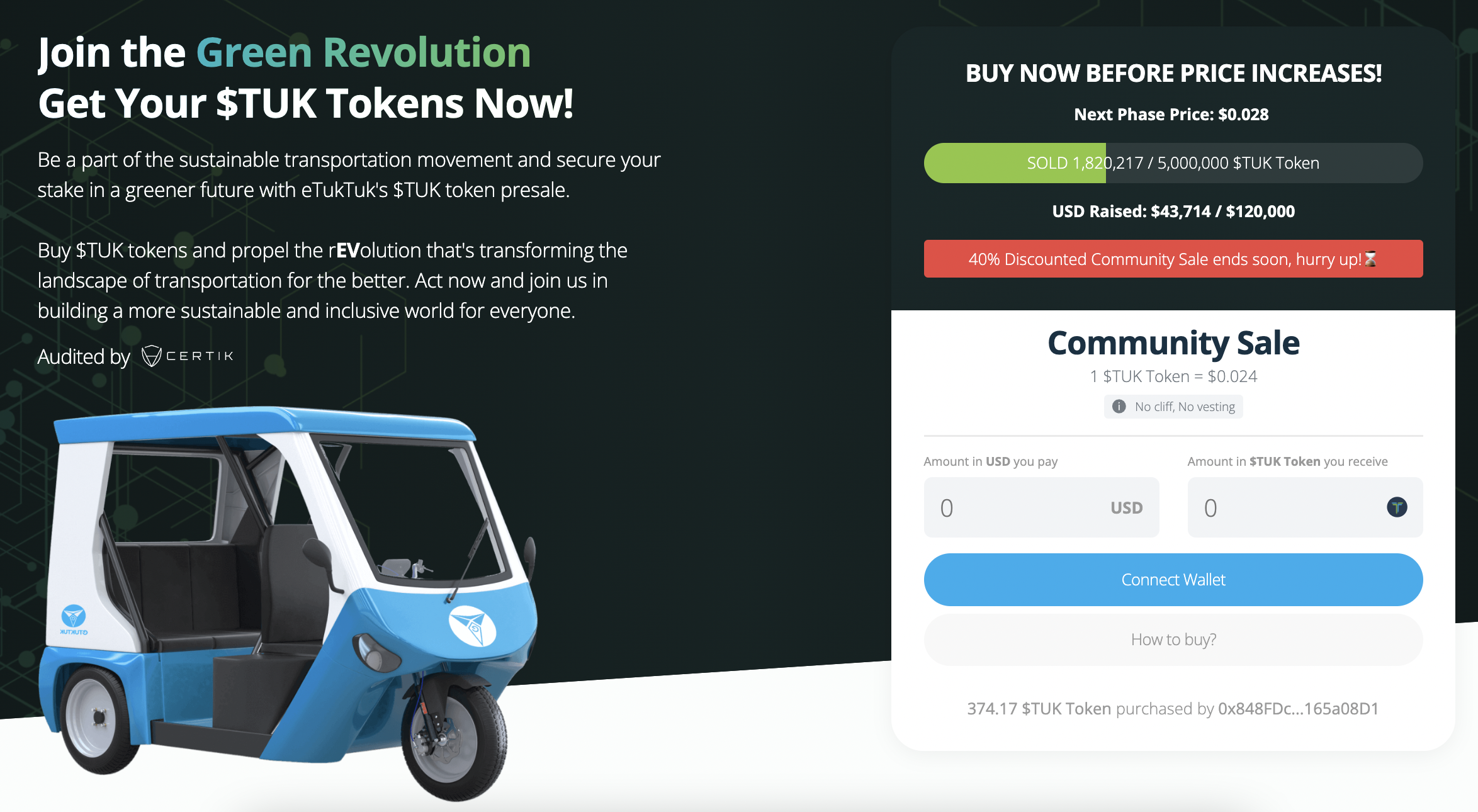 Not to mention significantly better for the environment. In addition, eTukTuk is developing a regional network of EV charging stations that will support its vehicles. It will initially roll out in Sri Lanka, which is where the project is based. It will then move into other developing countries.
Territory partners are incentivized to support eTukTuks, as they will be rewarded in TUK tokens. This is the project's ecosystem token and it operates on the BSc standard. The eTukTuk ICO was recently launched, so you can still invest in stage one. This means you'll currently pay just $0.024. This represents a 40% discount from exchange-listing prices.
| | |
| --- | --- |
| Token symbol | TUK |
| ICO supply | 200,000,000 TUK |
| Token type | BEP-20 |
| Payment methods | ETH, BNB, USDC, USDT, ADA |
| Listing price | Not stated |
7. Scorpion Casino – Invest in the Future of Online Gambling and Get a 194% ICO Upside Today    
Scorpion Casino is a decentralized casino that supports hundreds of gambling games. This includes everything from table games and slots to sports betting and provably fair. What's more, while Scorpion Casino is a regulated gambling site, it doesn't have KYC processes in place. It also offers instant payouts – so players receive their winnings in minutes.
As such, Scorpion Casino could revolutionize the online gambling industry – a market expected to surpass $90 billion in revenues this year. Best of all, the Scorpion Casino ICO allows you to gain exposure to its long-term growth. You'll be buying SCORP tokens, which are native to Scorpion Casino's gambling ecosystem.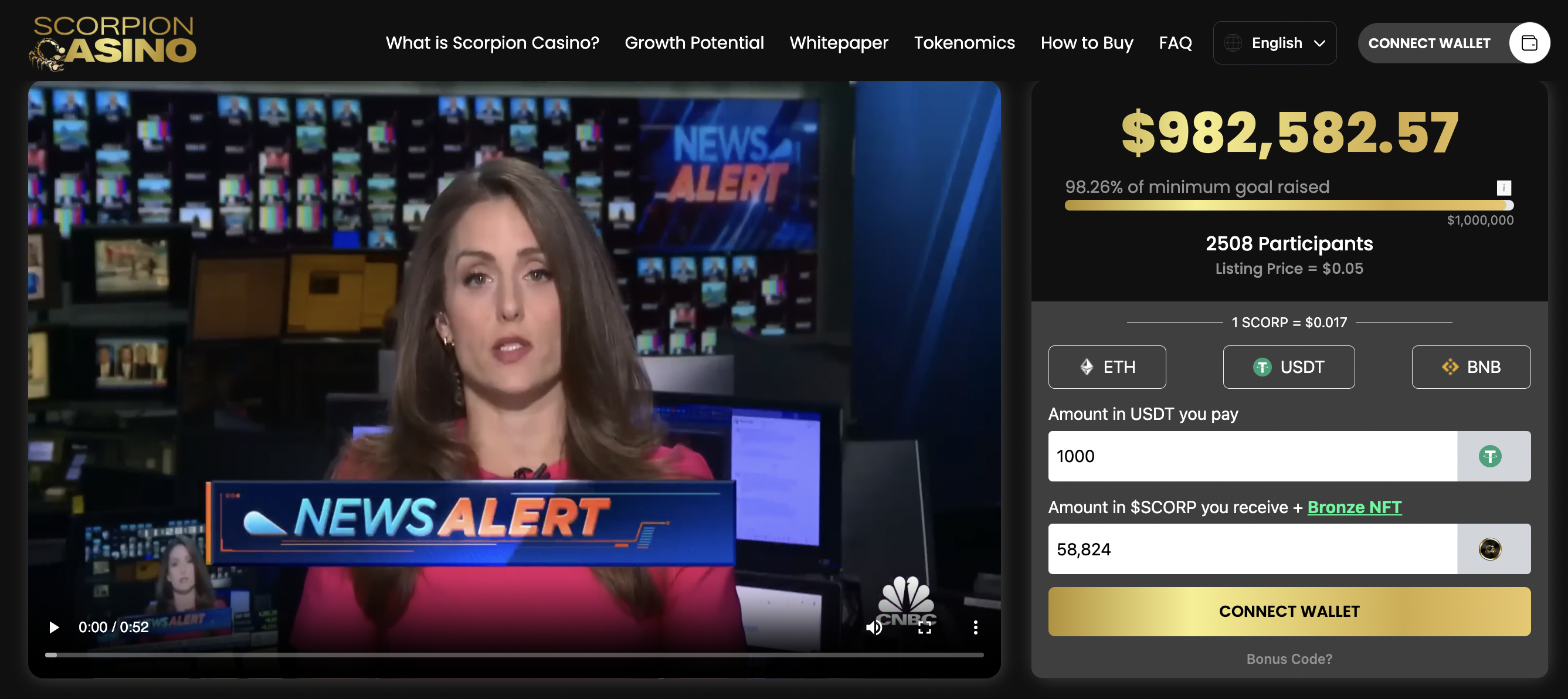 We found that ICO investors are currently getting an unprecedented deal. First, you will pay just $0.017 per SCORP by investing today. After the ICO, Scorpion Casino will set an exchange listing price of $0.05. That's 194% higher than the current ICO price.
ICO investors will also receive a Scorpion Casino NFT when investing at least $1,000. This offers many perks, such as 5% in casino credits and a 10% ICO bonus. That said, larger investments will receive an NFT upgrade, which ranges from gold to platinum. The latter comes with 40% in casino credits and a 60% ICO bonus.
| | |
| --- | --- |
| Token symbol | SCORP |
| ICO supply | 200,000,000 SCORP |
| Token type | BEP-20 |
| Payment methods | ETH, USDT, BNB |
| Listing price | $0.05 |
8. Wall Street Memes – Top ICO for 2023, Presale Complete
The Wall Street Memes ICO is now complete. This meme coin project has raised more than $25 million from ICO investors and is currently listed on the OKX exchange.
Its memes often go viral, with over 40 million impressions every month. Not only that, but the Wall Street Memes community continues to grow; it already stands at over 1 million people. A major selling point of Wall Street Memes is that it's had engagements with Tesla CEO Elon Musk.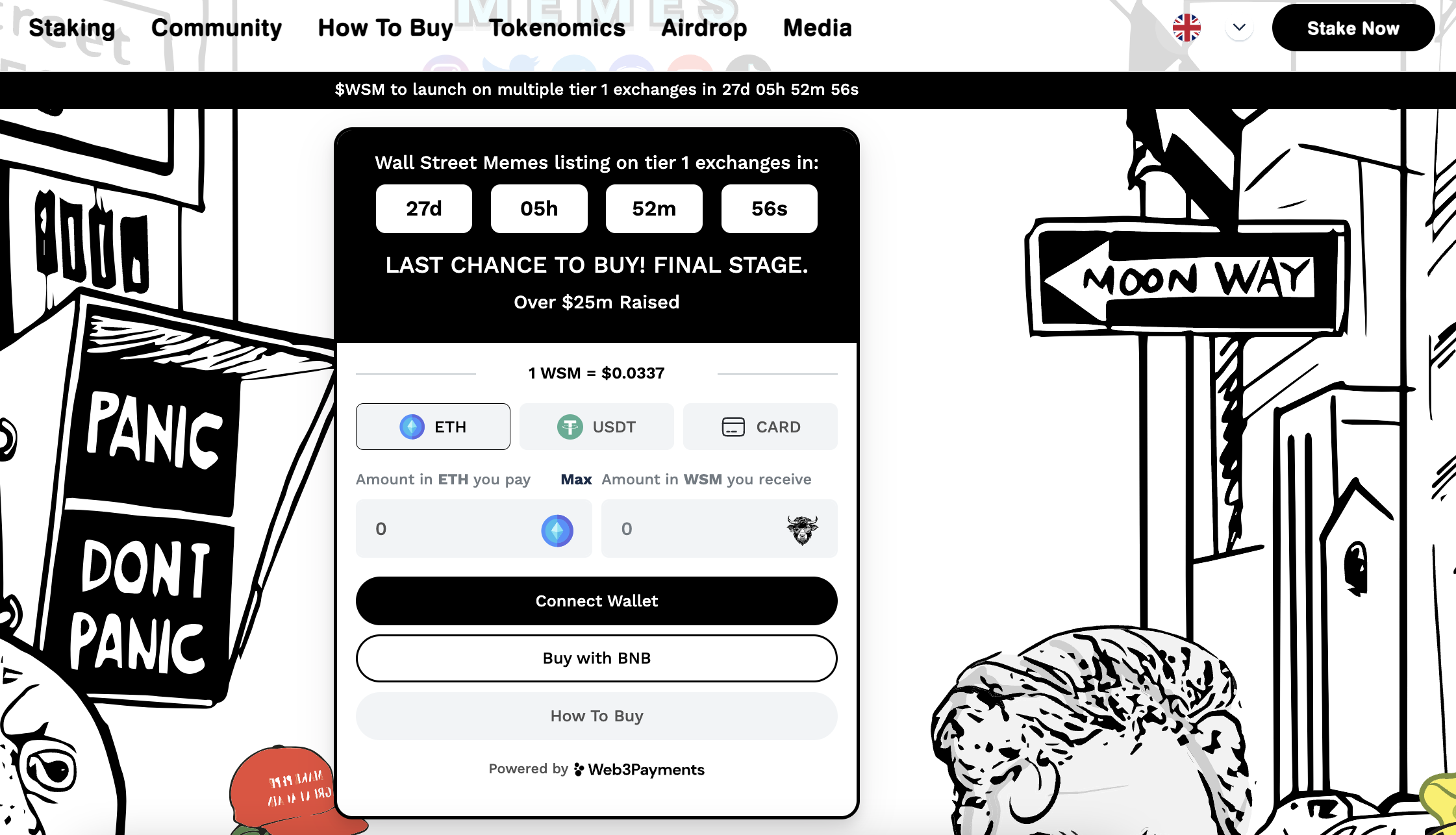 Musk has previously replied to the project's memes on Twitter, resulting in millions of additional views. Wall Street Memes has proven that it can build a huge community in a very short period of time. This will help the project target sizable gains after its ICO campaign is over.
In the meantime, having raised over $25 million and inching toward its $30.5 million hard cap – Wall Street Memes has a significant marketing budget. 50% of WSM tokens are being sold during the ICO, so will have a market capitalization of about $61 million.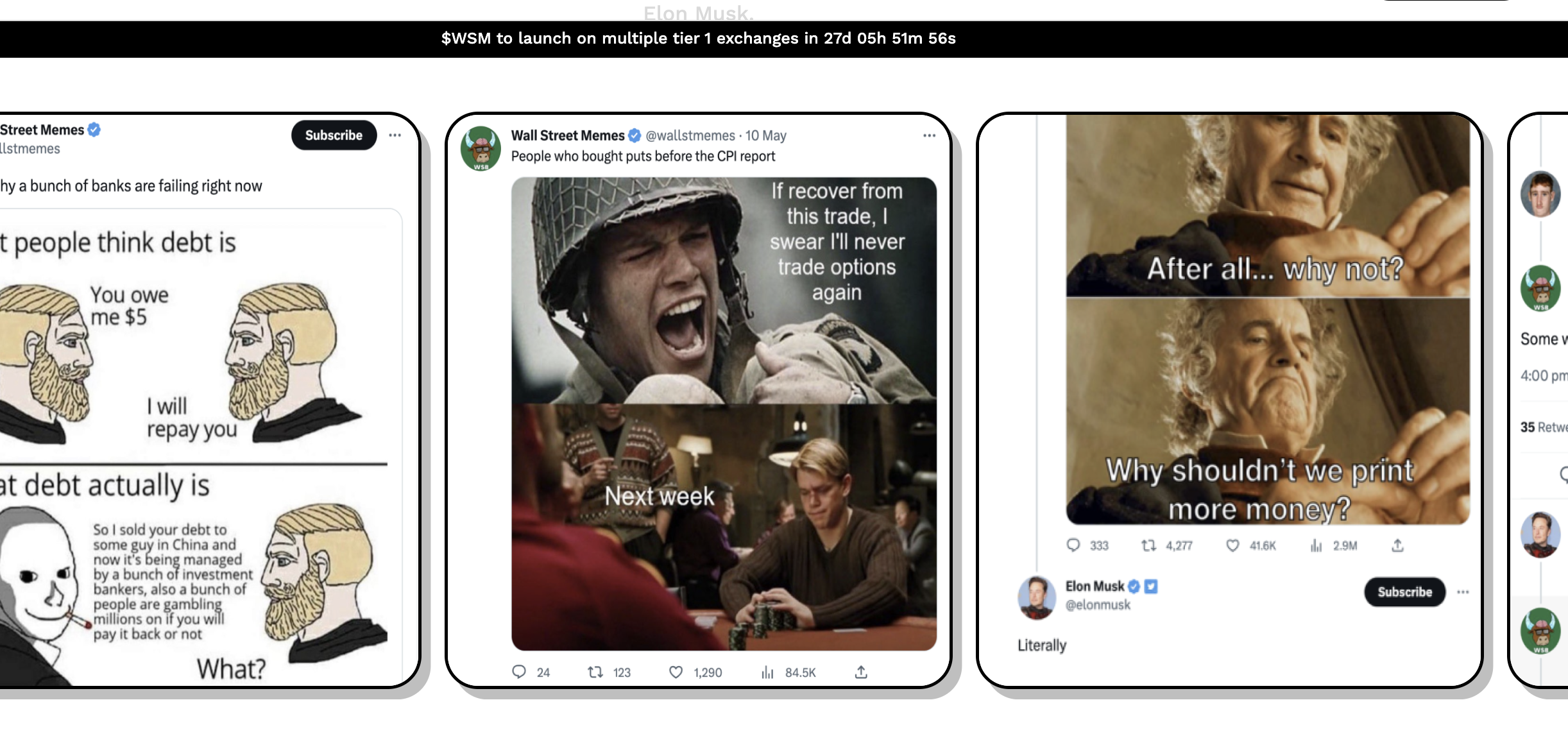 This will appeal to investors seeking small-cap cryptocurrencies with the potential to explode. To invest in the Wall Street Memes ICO, you'll need BNB, ETH, or USDT. The minimum investment requirement is just 100 WSM. At $0.0337 per token, that's about $3.37. You can also use a credit card to invest in the ICO after completing a quick KYC process.
| | |
| --- | --- |
| Hard Cap | $30,577,000 |
| Total Tokens | 2,000,000,000 |
| Tokens available in presale | 1,000,000,000 |
| Blockchain | Ethereum Network |
| Token type | ERC-20 |
| Minimum Purchase | 100 WSM |
| Purchase with | USDT, ETH, BNB, Bank Card |
9. RizzMonkey – Hyped-Up Meme Coin Based on the Money With Rizz Videos [Third and Final ICO Stage] 
If you're a high-risk investor looking to jump on the meme coin craze, RizzMonkey could be a great fit for your portfolio. Its native token, RZZMNKY, doesn't offer any utility or long-term use cases. It does, however, have the ability to generate hype and FOMO. This meme coin is inspired by the 'Monkey With Rizz' videos that continue to go viral on social media.
Put simply, they're videos of a monkey grinning at the camera. The ongoing theme is that the monkey has 'Rizz', meaning it's able to attract mating partners with ease. While somewhat irrational, these are the sort of meme coin projects that can generate gains of 100x or more. It's all about creating a fun and exciting story that's shareable on social networks.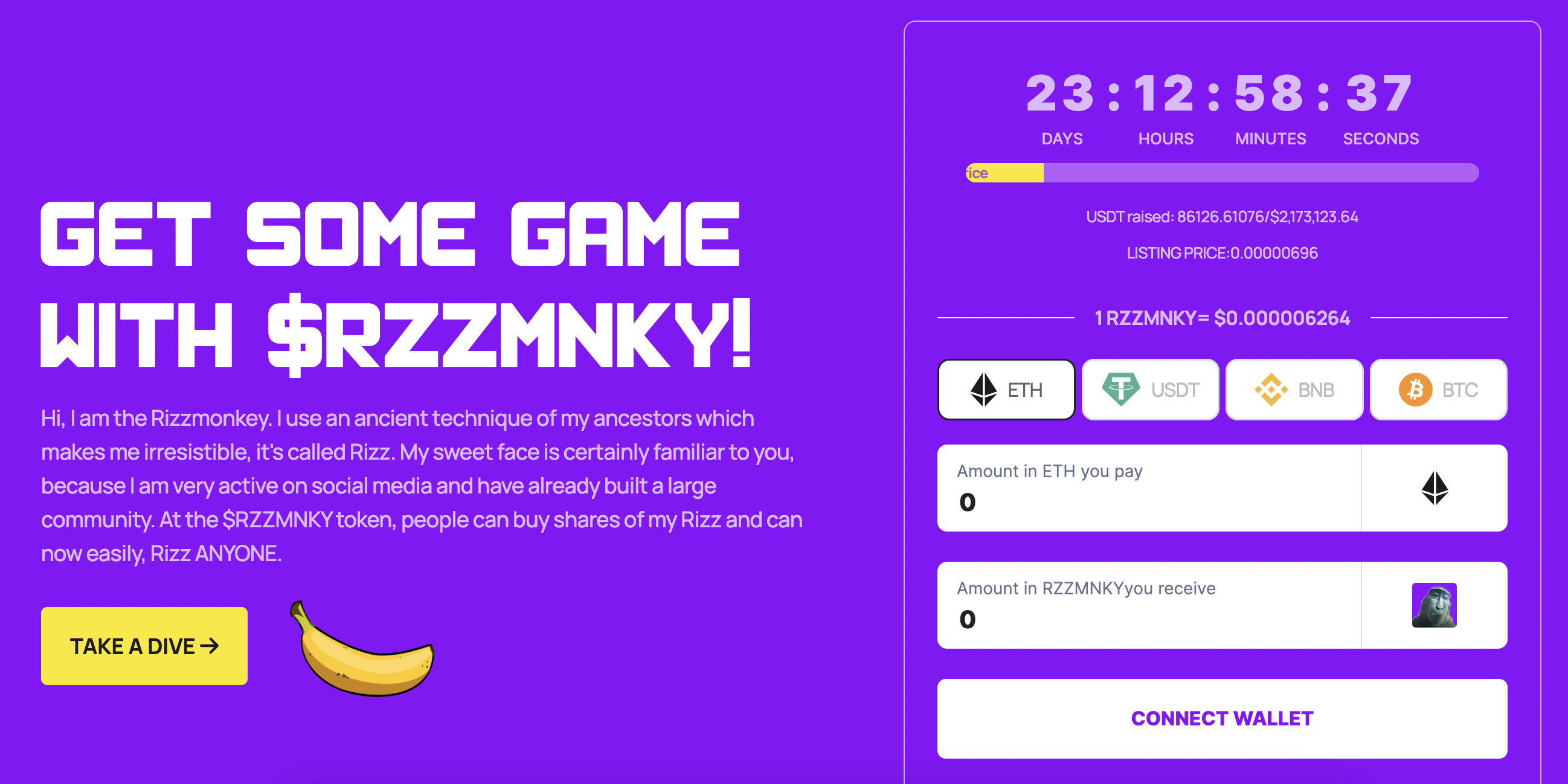 The RizzMonkey ICO is now in its third and final stage. You'll still be able to get an ICO discount, as RZZMNKY tokens are currently selling at just $0.000006264 each. After the ICO, the exchange-listing price has been set at $0.00000696. This translates to an ICO discount of 10%. Moreover, due to the low price available, you'll get nearly 16 million RZZMNKY tokens for every $100 invested.
However, we should note that the RizzMonkey ICO has vesting stages attached to it. You will receive your tokens in 10% batches, released every two weeks. While this might be a drawback for some, it's actually a solid strategy that creates sustainability. After all, you won't run the risk of the tokens being dumped straight after the ICO.
| | |
| --- | --- |
| Token symbol | RZZMNKY |
| ICO supply | 696,969,696,969 RZZMNKY |
| Token type | BEP-20 |
| Payment methods | BNB, ETH, USDT, BTC |
| Listing price | $0.00000696 |
10. Patex – Layer 2 Blockchain With Cross-Chain Functionality Aimed at the Latin American Economies      
Patex is a newly founded project that has developed a layer 2 blockchain solution for the Latin American countries. It will support cross-chain functionality, meaning that multiple network standards will be supported. Patex believes that Latin America is one of the most under-tapped cryptocurrency markets globally.
Its network will enable citizens to fight ever-rising inflation levels – a major issue in this region. Patex uses a proof-of-value consensus mechanism that rewards users for their input. In other words, the more transactions processed, the more PATEX rewards received.  What's more, it will also support Central Bank Digital Currencies (CBDCs).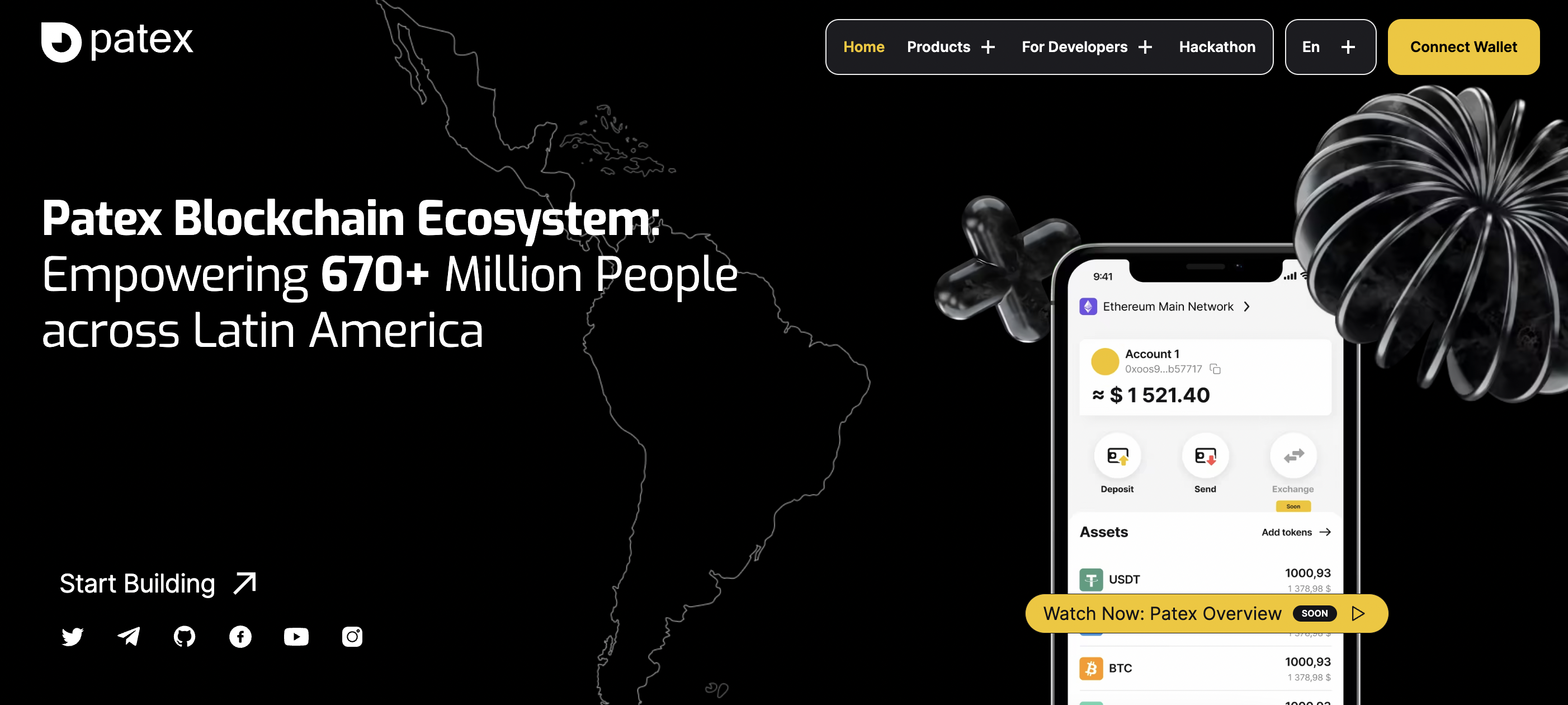 This will allow progressive governments to introduce cryptocurrencies into the domestic economies. The Patex ICO will commence on September 15th, 2023. The ICO price has been set at $0.95 per PATEX token. The ICO is looking to raise a modest $200,000 from investors. The Patex ICO will be hosted on WePad.
| | |
| --- | --- |
| Token symbol | PATEX |
| ICO supply | TBA |
| Token type | ERC-20 |
| Payment methods | USDT |
| Initial ICO price | $0.95 |
11. Stabble – Innovative Decentralized Finance Platform Powered by Multiple Layer- 1 Blockchains        
Stabble is the best upcoming ICO for exposure to decentralized finance (DeFi). It's developed an innovative ecosystem that supports multiple layer-1 blockchains. In fact, its DeFi ecosystem is already powered by Solana, Sei, Cosmos, and Nitro. But more networks will be added in the near future.
Nonetheless, the Stabble ecosystem comes packed with features that will appeal to DeFi traders. This includes cross-chain functionality, meaning that tokens can be traded across competing networks. Moreover, Stabble has implemented 'smart order execution' into its trading processes.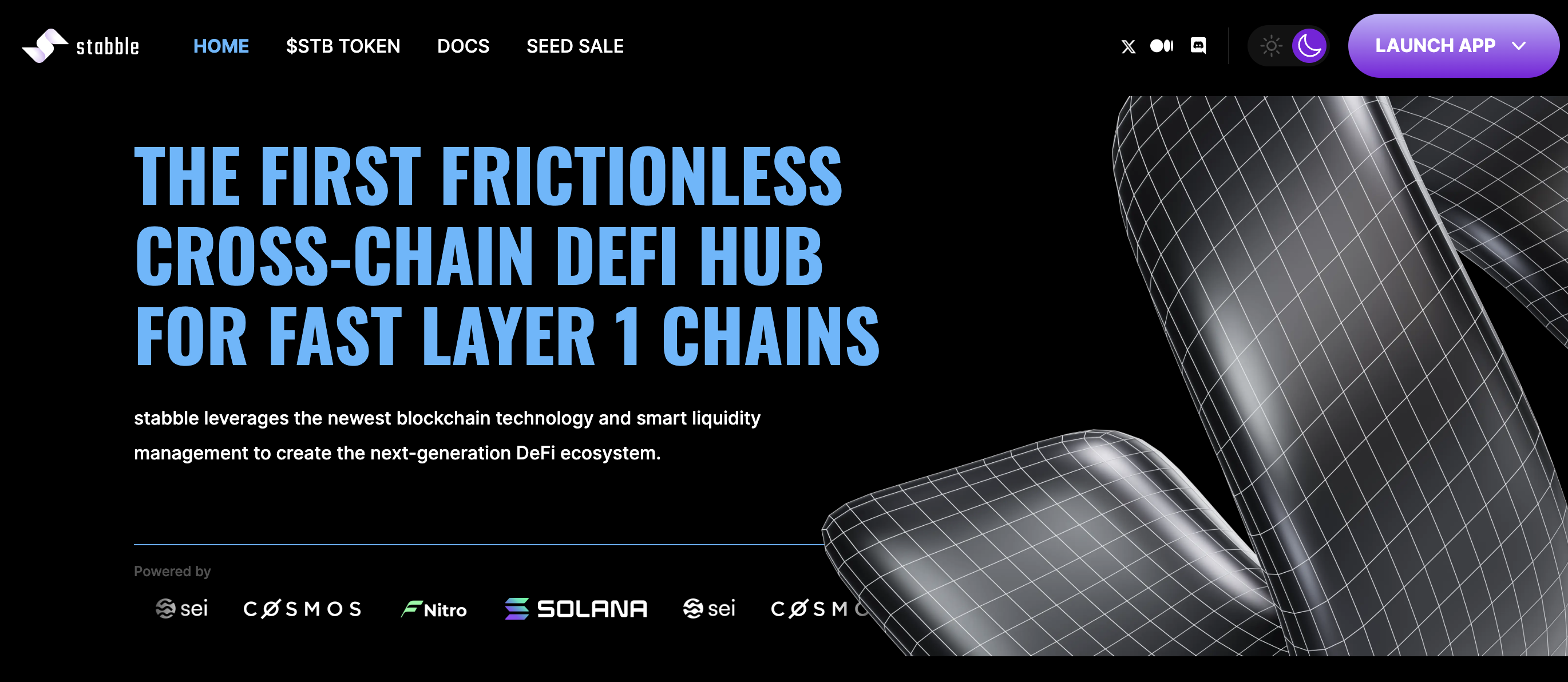 In simple terms, if a trade will result in slippage of over 0.2%, it will be broken down into smaller segments. This greatly reduces the risk of trading at unfavorable prices – especially when there are low liquidity levels. This upcoming ICO is scheduled for late October 2023. The initial ICO round will raise just $50,000. This will get you the lowest price possible at just $0.03 per STB token.
| | |
| --- | --- |
| Token symbol | STB |
| ICO supply | 1,666,666 STB |
| Token type | ERC-20 |
| Payment methods | USDT |
| Initial ICO price | $0.03 |
12. Kryptview – Peer-to-Peer Ecosystem for Cryptocurrency Trading Data and Insights         
Kryptview aims to challenge the monopoly of CoinMarketCap. It has built an innovative data hub for the cryptocurrency trading markets. This includes core data points linked to market capitalization, trading volumes, and circulating supplies. However, unlike CoinMarketCap, Kryptview operates on a peer-to-peer basis.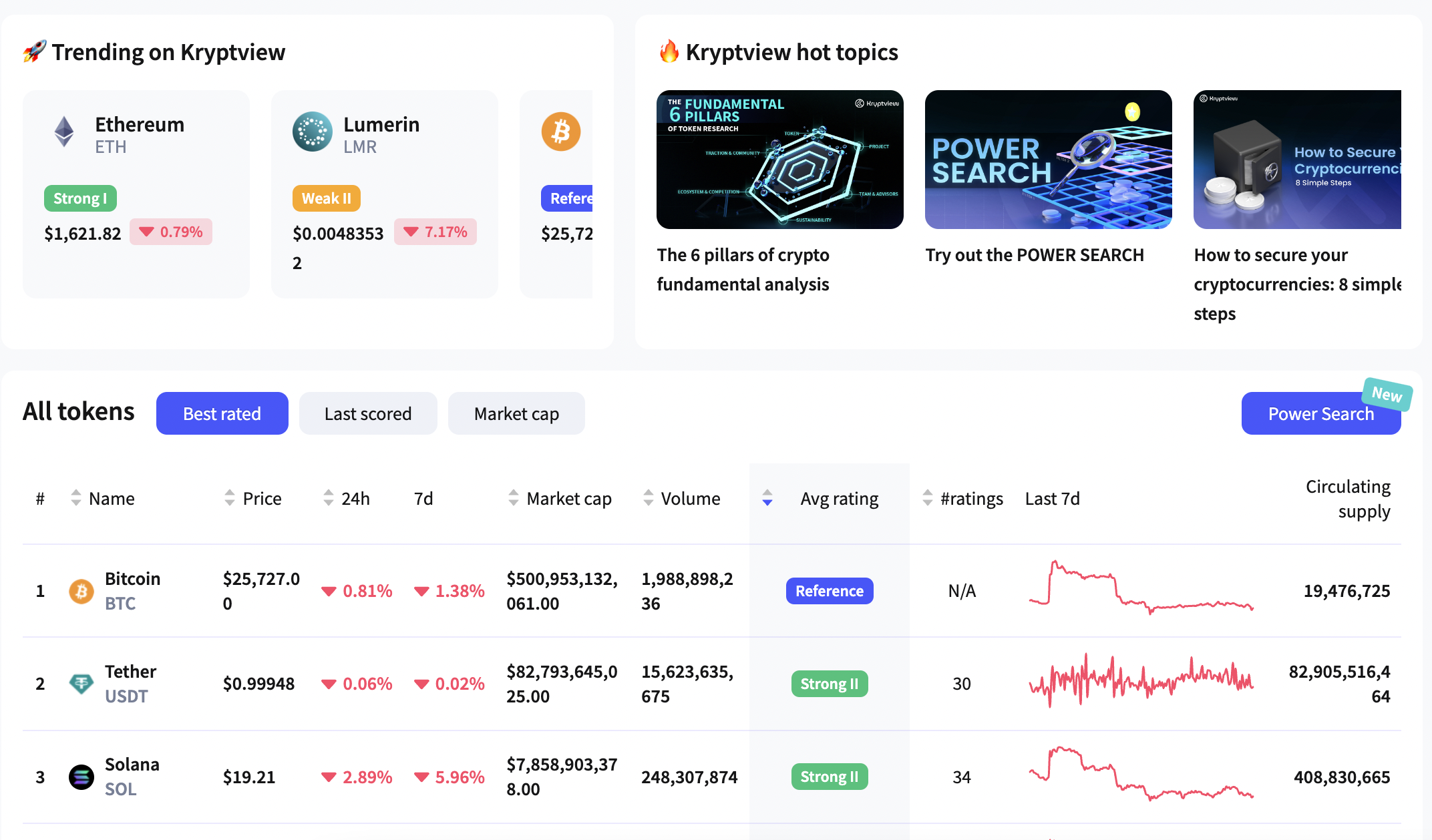 This means that it is fully decentralized, so there are no biases or agendas with its data. Moreover, the Kryptview community will be able to manually review data to ensure it's accurate. In doing so, they'll be rewarded with KVT; the native token backing Kryptview. The Kryptview ICO is scheduled for November 2023. 12.5% of the token supply will be sold. The ICO price has been set at $0.05.
| | |
| --- | --- |
| Token symbol | KVT |
| ICO supply | 37,352,941 KVT |
| Token type | BEP-20 |
| Payment methods | BNB |
| Initial ICO price | $0.05 |
13. Bitfinder – Innovative Search Engine for Crypto-Related Queries [Backed by the Blockchain]         
Bitfinder has a unique and innovative concept – it's building a search engine aimed specifically at crypto and blockchain queries. For instance, users can search for the most trending coins or for a link to an ICO whitepaper. Either way, its search engine will be powered by blockchain technology – so it's completely decentralized.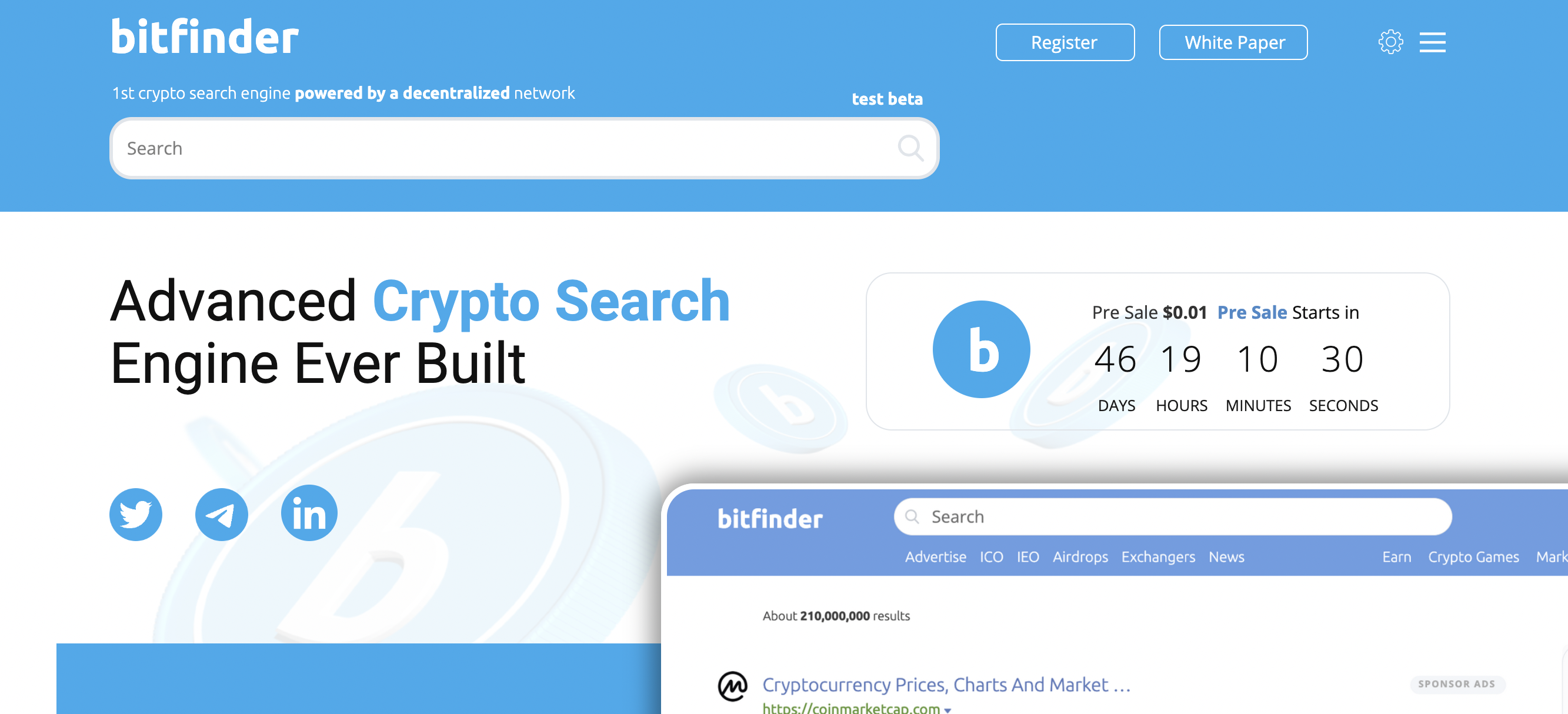 Bitfinder is in the very early stages of development, which is reflected in its upcoming ICO price. Stage one, which will take place in October 2023 and raise $600,000, is offering BITF tokens at just $0.01. By the final stage, BITF tokens will be sold at $0.07 – seven times higher than the initial phase. However, do note that stage one investments will be vested for six months.
| | |
| --- | --- |
| Token symbol | BITF |
| ICO supply | 240,000,000 BITF |
| Token type | ERC-20 |
| Payment methods | USDT |
| Initial ICO price | $0.01 |
14. Mar3 AI – Marketing Solutions for the Web 3.0 Era via Artificial Intelligence        
Mar3 AI is a new ICO project that is revolutionizing the global marketing space. It enables users to build effective marketing campaigns through text-based prompts. The AI-backed protocol will then suggest suitable steps to maximize marketing budgets. What's more, Mar3 AI also enables users to create their own marketing materials at the click of a button.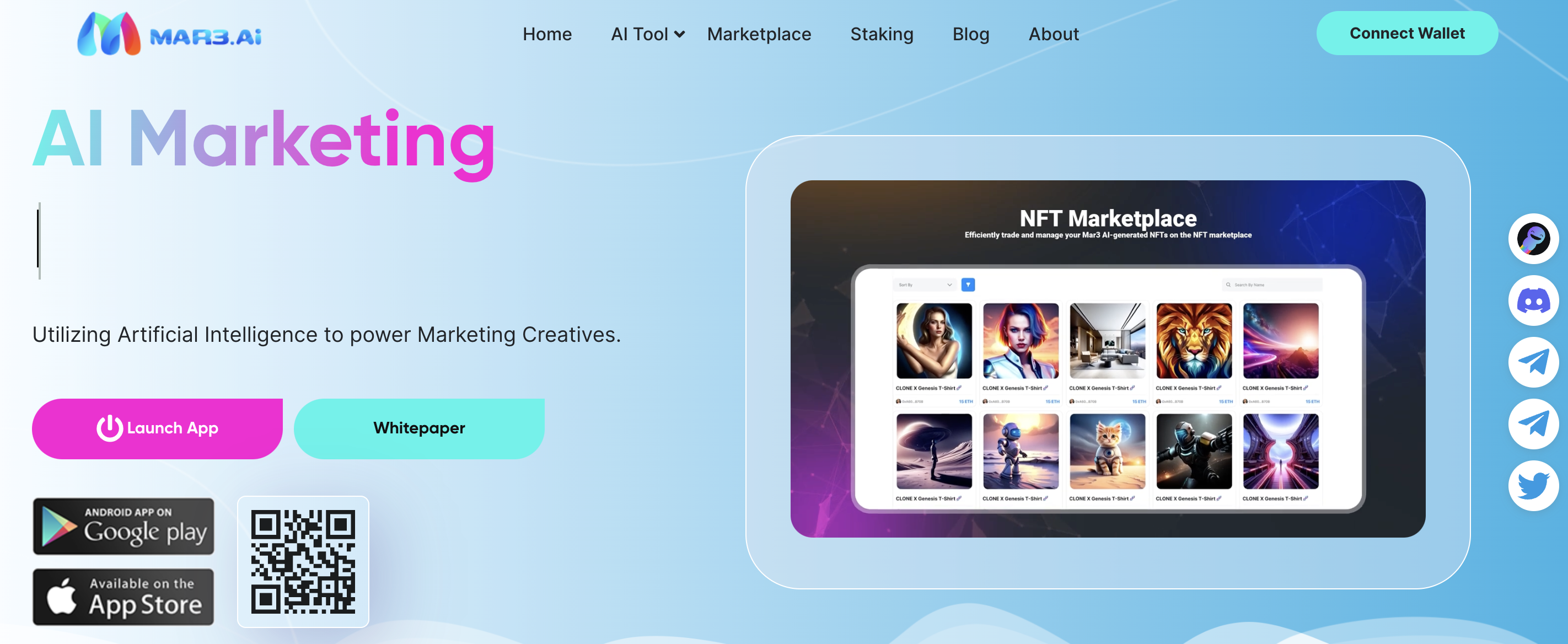 This includes social media ads, including Facebook and LinkedIn. Users can also automate their ad copy, not to mention generate unique images and videos. Its ecosystem is backed by MAR3 tokens. The upcoming ICO is scheduled for October 18, 2023. This ICO stage will raise $150,000 and MAR3 tokens will be sold for $0.022 each.
| | |
| --- | --- |
| Token symbol | MAR3 |
| ICO supply | 6,818,181 MAR3 |
| Token type | BEP-20 |
| Payment methods | Not stated, but likely BNB |
| Initial ICO price | $0.022 |
15. AiMalls – AI-Driven Shopping Experiences in the Web 3.0 Era  
AiMalls is building the future of online shopping in the Web 3.0 era. Backed by artificial intelligence, AiMalls gets to know the user's preferences and interests. It then suggests products that are likely to be of interest. In other words, it's like having a personal shopper at your fingertips.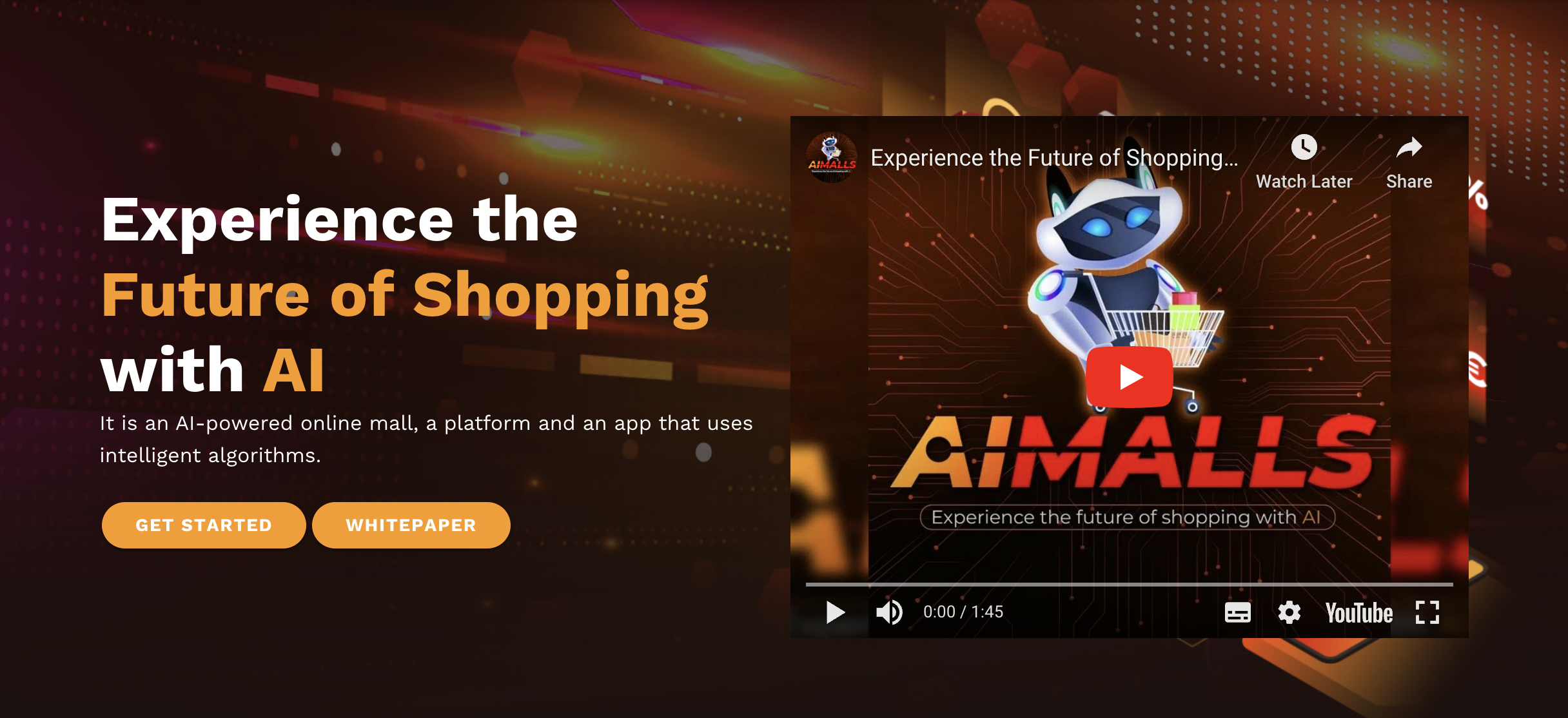 AiMalls also enables merchants to sell their products, with payments processed in either fiat money or cryptocurrencies. Merchants will benefit from a fully-fledged customer service chatbox that comes preinstalled in their respective stores. The AiMalls ICO will launch on October 14, 2023. It will initially raise $100,000 and AIT tokens will be sold at $10 each.
| | |
| --- | --- |
| Token symbol | AIT |
| ICO supply | 10,000 AIT |
| Token type | ERC-20 |
| Payment methods | USDT |
| Initial ICO price | $10 |
16. Spin – Decentralized Trading Dashboard Built on the NEAR Blockchain       
Spin is the final upcoming ICO to consider on this list. It's building a decentralized trading suite that operates on the NEAR blockchain. This means that buy and sell orders will be executed quickly and cost-effectively. The Spin trading suite will come packed with features, including on-chain order books, custom charting screens, and technical indicators.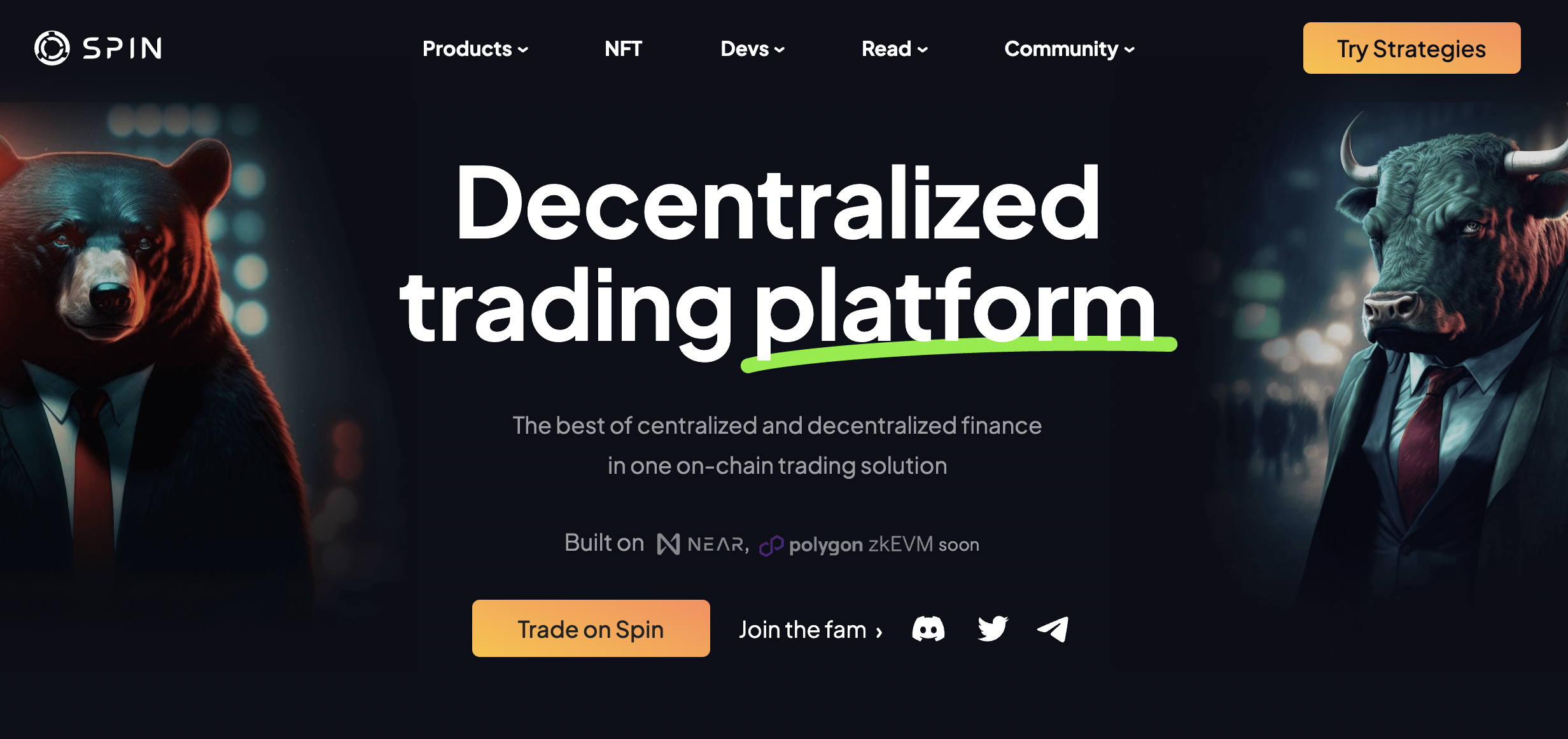 It will also support advanced order types, allowing traders to enter and exit positions efficiently. What's more, there are no counterpart risks, as Spin does not hold client-owned funds. Instead, traders simply need to connect their wallet to the Spin dashboard. The Spin ICO is scheduled for Q4 2023. There will be three stages, with SPIN tokens selling between $0.035 and $0.05.
| | |
| --- | --- |
| Token symbol | SPIN |
| ICO supply | 70,000,000 SPIN |
| Token type | NEP-141 |
| Payment methods | NEAR |
| Initial ICO price | $0.035 |
What is an ICO?
An ICO, or initial coin offering, is a fundraising process used by new cryptocurrency projects. Also referred to as a 'crypto presale', ICOs follow a similar concept to stock IPOs (initial public offerings). For example, ICOs collect funds from investors before their crypto tokens are launched on an exchange.
This is the same as buying IPO shares before being listed on a stock exchange, such as the NASDAQ. However, instead of selling shares, ICO projects offer investors their newly created digital tokens. For example, when Ethereum held its ICO in 2014, it sold ETH tokens to early investors. ETH has since increased in value by over a million percent.
As an ICO investor, you'll be investing capital into a brand-new concept. While you can invest from the ground up, it also means that the risks are high. Just like an IPO stock, there is no guarantee that the ICO will be a success. After all, once the tokens are listed on crypto exchanges, the project's success will be determined by market forces.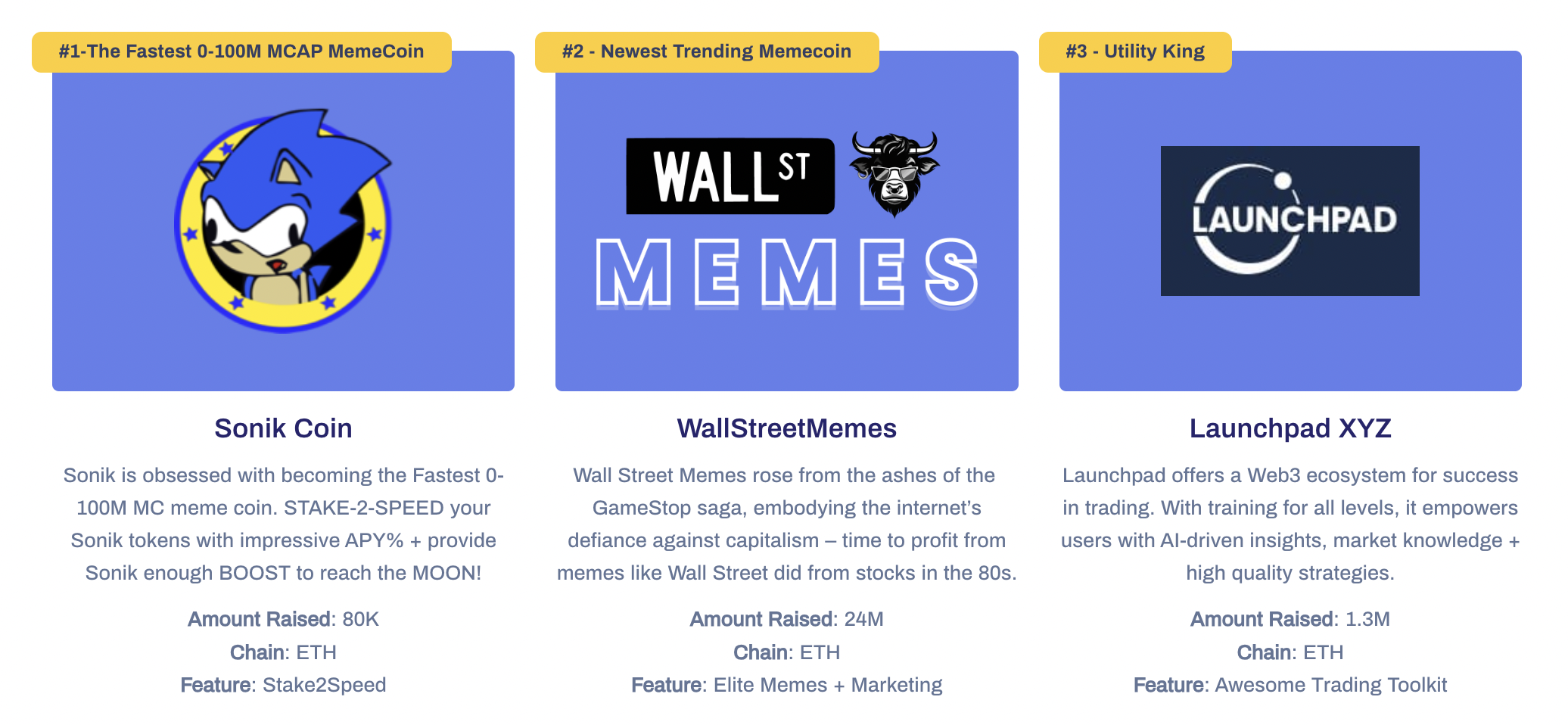 For example, if more people buy the tokens after the ICO, this will help increase their value. But if too many ICO investors cash out, the value of the tokens will decline. Nonetheless, many upcoming ICOs offer a discounted price. This means you'll pay a lower price when compared to the exchange listing – which happens once the IPO has finished.
For instance, yPredict's ICO is selling YPRED tokens at $0.10. After the ICO, YPRED will be listed on an exchange at $0.12. This means that the yPredict ICO offers a discount of over 16%. Another benefit is that most ICOs list on exchanges with a micro-valuation. This enables you to target large gains, as micro-cap cryptocurrencies have more room to grow.
Ultimately, the main appeal with crypto ICOs is the huge growth potential. It's not uncommon for post-ICO tokens to increase by 10,000% or more. This can happen in a matter of days or weeks if the ICO project creates hype. Equally, however, new cryptocurrencies can also trade below their ICO price; so proceed with caution.
Are ICOs the Same as Presales?
ICOs follow the same concept as presales. In fact, the two terms are used interchangeably.
That being said, due to regulatory issues with ICOs in certain countries, 'presale' is now more commonly used by newly launched projects.
Nonetheless, both ICOs and presales give you access to new cryptocurrencies before they launch on exchanges.
How do Initial Coin Offerings Work?
If you're new to ICOs, you should understand how the process works before investing. In this section, we explain everything there is to know about ICOs as a beginner.
Key Takeaways of the ICO Investment Process

The standard ICO investment process is as follows:
The ICO project creates a brand-new cryptocurrency token via a smart contract. This will usually be through a secondary blockchain, such as Ethereum or Binance Smart Chain.
Once the ICO launches, it will usually have a private funding round for select investors. Once the main round begins, anyone can invest.
Most ICOs accept established cryptocurrencies as payment, such as BNB or ETH. Some will also support debit/credit cards via a third-party processor.
After the ICO finishes, you'll receive your tokens. The ICO tokens will then be listed on at least one exchange. This allows anyone to buy or sell the tokens.
Initial Concept and Whitepaper Development
Before the ICO takes place, the cryptocurrency project will need to complete some initial steps. For example, it will create a whitepaper, which details the ins and outs of the project. This gives ICO investors a 360-degree view of what the project is all about. For example, the project's concept, what issues it solves, and what steps it will take to achieve its goals.
The whitepaper should also outline a clear roadmap. This highlights specific objectives and when the project aims to complete them. The roadmap should also be referenced long after the ICO finishes. As an investor, this will enable you to keep track of the project's progress.
Smart Contract Development 
Once the whitepaper has been created, the ICO project will need to take care of its technical framework. With the odd exception, an overwhelming majority of ICO tokens are built on a secondary blockchain. While Binance Smart Chain is also popular, the Ethereum blockchain dominates this space.
It's simple for an ICO project to build on top of Ethereum. In doing so, it becomes an 'ERC20 token'. This simply means that it follows the Ethereum standard and that it can handle smart contracts and NFTs. Irrespective of the chosen blockchain, the ICO project will have a unique smart contract address.
This will be published to the ICO community, enabling anyone to audit the underlying code. That said, the best upcoming ICOs will use a respected smart contract auditor for this process. Examples include CertiK, Solidproof, and Consensys Diligence – but several others exist.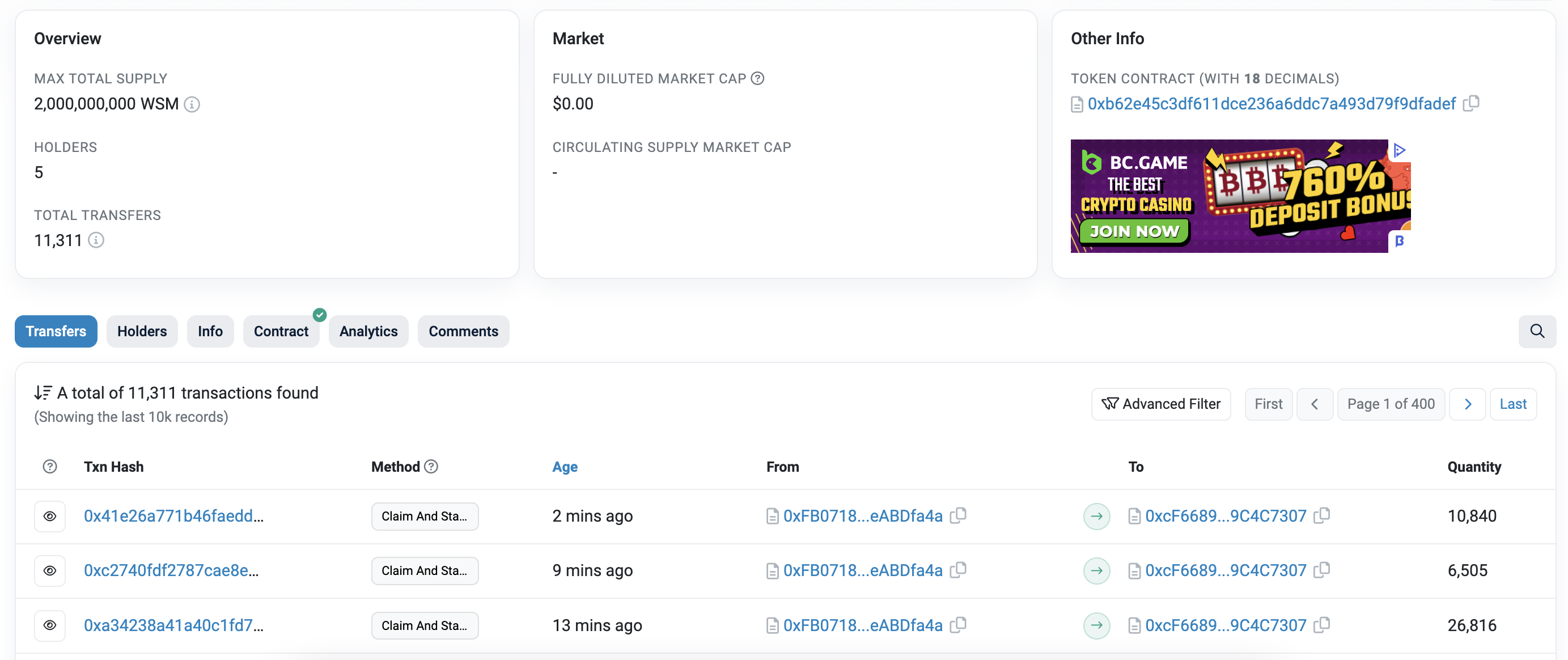 The auditing process ensures that the smart contract is secure. In other words, the smart contract should not have any weaknesses that could be exploited by scammers. Moreover, the smart contract should not allow the ICO project to withdraw liquidity before a certain timeframe. Nor should it allow the project to restrict sell orders or limited transactions.
If there are any issues identified during the audit process, this will be included in its final report. As such, ICO projects are incentivized to get it right the first time. If they don't, it can take a while for smart contract revisions to be made. By this point, the ICO project might have already lost credibility.
New Crypto Token Creation 
Once the smart contract has been deployed, a new cryptocurrency token will be created. These tokens are what you will be purchasing during the ICO campaign. They will operate like any other cryptocurrency, meaning that the tokens are stored in wallets.
Moreover, the ICO tokens can be transferred on a wallet-to-wallet basis. All transactions will appear on the respective blockchain network – ensuring full transparency. Most ICO projects create a finite supply of tokens. This ensures that the supply is capped and that the project doesn't suffer from inflation.
For example, Wall Street Memes has created a maximum supply of 2 billion WSM tokens. No more WSM tokens will ever exist. This can be verified by checking out the Wall Street Memes smart contract address.
Pre-ICO Marketing and Awareness 
Before the ICO launches, it will need to undertake a solid marketing campaign. Otherwise, it won't be able to attract any investors. After all, new crypto ICOs launch pretty much every day. This means the ICO market has very quickly become oversaturated.
Not all ICOs will have sufficient funding, however. These projects will often struggle to get their ICO campaign off the ground. While organic marketing can yield results, the most successful ICOs are able to target a huge audience. Just remember – the more investors the ICO attracts, the more capital it will raise.
Conversely, this will give the ICO project sufficient funding to meet its objectives. Not to mention more funds for marketing after the ICO finishes. Raising a lot of capital during an ICO is also a marketing perk in itself. For example, Wall Street Memes is seeing a huge wave of new investors, considering it's already raised over $25 million.
Private ICO Stage 
When researching the best upcoming ICOs, we found that some projects offer a 'private' round before launching to the public. This usually reserves a tiny percentage of ICO tokens for accredited or well-known investors.
For instance, if an investor is looking to inject a 6-figure sum into the ICO, they'll often get a private round allocation. This means buying the ICO tokens at a slightly lower entry price.
In other cases, private-stage ICOs are available to those completing certain tasks. For instance, the project might ask users to follow their social media channels or share their whitepaper on Reddit.
Alternatively, we also found upcoming ICOs that run a lottery-style selection process. Interested parties provide their wallet address to the ICO, which grants them entry to the draw. Winners of the draw will receive access to the private ICO stage.
Main ICO Stage 
Projects will sell the majority of their ICO allocation during the main fundraising round. This means that anybody can invest. Most ICOs only accept cryptocurrencies as payment. This is usually an established cryptocurrency like BNB or ETH. We also found that some projects accept credit cards.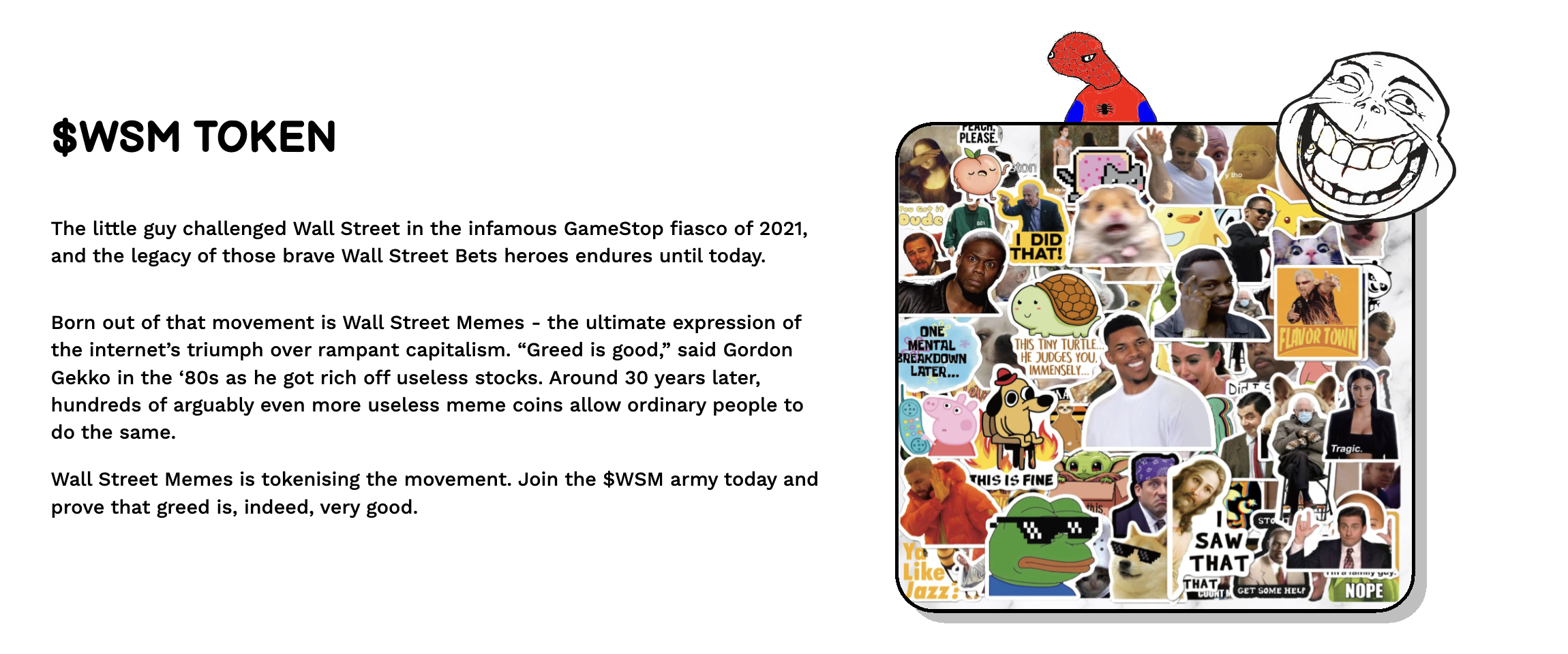 To ensure the ICO is compliant with anti-money laundering regulations, it will use a licensed third-party processor. The processor is legally required to perform a KYC process on the investor. This means asking the investor to upload some ID. A KYC process isn't required when paying with cryptocurrencies.
Either way, most ICOs are run directly on the project's website. You'll need to connect a wallet to its website. This is the wallet where you will receive your ICO tokens. You will likely receive your tokens after the ICO campaign has finished. This will happen on a specified date or once the hard cap total is reached – whichever comes first.
What is an ICO Soft Cap and Hard Cap?
Two terms you're likely to see when investing in ICOs are 'soft cap' and 'hard cap'. Both refer to specific targets of the ICO campaign.
The soft cap target is the minimum amount the project can raise to meet its goal. If it doesn't reach the soft card target, ICO investors will be refunded. The project will then need to seek alternative funding.
The hard cap target is the maximum amount the project will attempt to raise. Once the hard cap is met, the ICO is over. The newly created tokens will then be listed on an exchange.
After the ICO has Finished  
As noted above, the ICO campaign will usually finish once one of two things happens:
The hard cap target is reached
The ICO deadline has been reached
Either way, you'll likely receive your ICO tokens once the fundraising campaign is over. When it is, the ICO project will list its tokens on a cryptocurrency exchange. This is similar to a stock IPO listing its shares on the NASDAQ or NYSE. In other words, the cryptocurrency exchange listing allows the general public to buy the respective tokens.
The best upcoming ICOs will secure centralized exchange listings before the campaign has finished. Wall Street Memes, for example, has already secured multiple tier-one listings. This shows that the project is proactive and that quality exchanges are happy to list its tokens.
However, most ICOs struggle to arrange centralized exchange listings. Instead, they initially opt for a decentralized exchange like Uniswap. Decentralized exchanges have no listing criteria – the project simply needs to add the smart contract to the platform. They also need to add liquidity so that the tokens can be traded.
Either way, once the ICO tokens are listed on exchanges – their performance is dictated by market forces. If the ICO does a good job with marketing, it will continue to attract investors. And as more investors buy the tokens on exchanges, their value will increase. However, there is no guarantee that this will be the case.
Why Invest in Upcoming Crypto ICOs?
We'll now examine why crypto ICOs continue to raise significant amounts of capital from investors.
ICOs Offer Huge Profit Potential 
ICOs attract investors who seek huge profit potential. Even more so than established cryptocurrencies like Bitcoin and Cardano. To illustrate the growth potential of successful ICOs, let's look at a couple of case studies.
Ethereum ICO (2014)
One of the earliest ICOs was run by Ethereum – which is now the world's second-largest cryptocurrency by market capitalization. Ethereum's ICO offered cryptocurrency enthusiasts a completely new concept – the ability to develop and execute smart contracts.
This showed that cryptocurrencies and blockchain could offer so much more than just financial transactions. Therefore, the Ethereum ICO was a huge success. According to CNBC, the Ethereum ICO raised over 31,000 BTC. At the time, this amounted to approximately $18.3 million. 60 million ETH tokens were sold to early investors at just $0.31 each.
So, had you invested in the Ethereum ICO in 2014, you could have bought 1,000 ETH for just $310. Since its ICO, Ethereum has gone through many market cycles.
Nonetheless, Ethereum hit its all-time high in late 2021 – $4,891. Compared to its ICO price of $0.31, that's gains of 15,777x. As such, your $310 ICO investment would have been worth almost $5 million by November 2021. Naturally, it's simply not possible for a traditional asset, such as stocks, to grow by this much in such a short period of time.
Filecoin ICO (2017)
Another case study that we will explore is Filecoin. In a nutshell, Filecoin describes itself as an Interplanetary File System. It enables users to store data on a peer-to-peer basis. Meaning – users can access decentralized storage networks in exchange for FIL, Filecoin's native token.
According to TechCrunch, the Filecoin ICO was launched in August 2017. There were two main stages to the ICO. First, 'advisors' had access to the private round stage, which priced FIL tokens at $0.75 each. This raised $52 million from investors.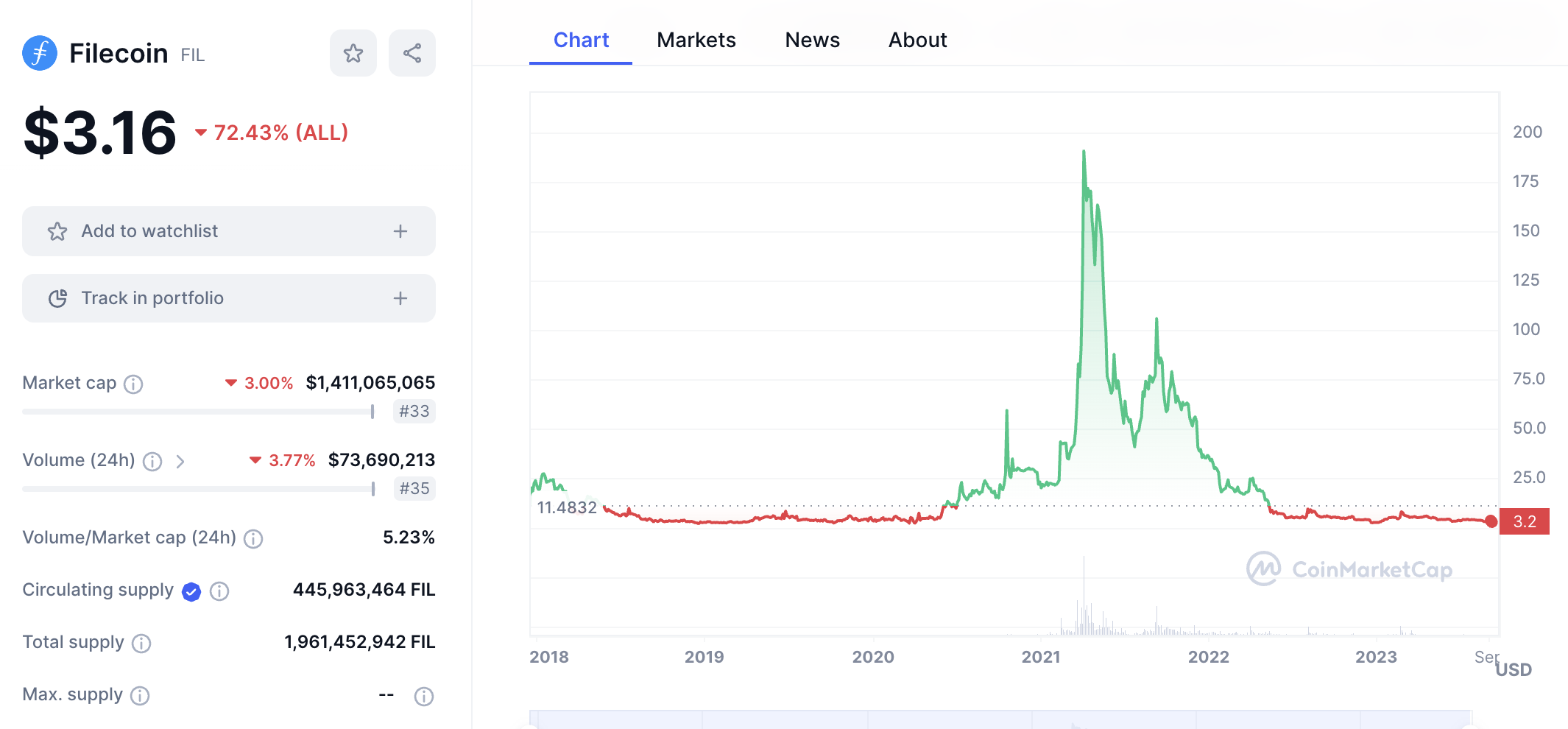 The main ICO round offered FIL tokens at $1 each. The main ICO round raised over $200 million, making it one of the biggest of its kind. After the ICO, FIL was listed on crypto exchanges. $11.48. This meant an immediate upside of over 10x for ICO investors.
But that wasn't all – Filecoin went on to hit all-time highs of $237.24 in April 2021. When compared to its ICO price of $1, this represents gains of over 237x. That's $23,700 for every $100 invested. However, like many cryptocurrencies, the value of Filecoin has since declined  – it's now trading at just $3.16.
Lucky Block ICO (2022)
A more recent example of how ICOs can explode in value is Lucky Block. This innovative project bridges the gap between online gambling and blockchain technology. It enables players to register a gambling account anonymously – meaning no intrusive KYC process. Lucky Block has its own casino and sportsbook, and players benefit from instant payouts.
The Lucky Block ICO was launched in early 2022. It enabled early investors to buy LBLOCK tokens at just $0.00015 each. After the ICO raised its hard cap target of approximately $5.7 million, it was listed on various cryptocurrency exchanges. As per CoinMarketCap data, Lucky Block hit an all-time high of $0.009617 in February 2022.
This means that in just one month of trading, Lucky Block's ICO generated gains of 64x. This shows just how quickly an ICO project can grow if it's managed correctly.
Many ICOs Offer an Immediate Upside Potential 
The framework used by ICOs will vary. That said, when searching for the best upcoming ICOs, we found that many offer an immediate upside. This is because many ICOs have various stages, each with a slightly higher price.
For example, the Scorpion Casino ICO is currently in stage 7 – and tokens are priced at $0.017 each. While this means that it's not at its lowest price point – there is still a huge upside available. This is because SCORP tokens will be listed on exchanges at $0.05 after the ICO. So, if you invest in its ICO today, you'll secure an upside of 194%.

In addition, Scorpion Casino is also offering a 40% bonus on the ICO investment amount. This is paid in credits, which can be used on its regulated casino and sportsbook. For example, if you invested $1,000 in the Scorpion Casino ICO, you'd receive $400 worth of credits.
However, ICO upsides are never guaranteed.
For example, if all ICO investors have the same plan – to sell the tokens immediately once listed, it will create a price decline. On the flip side, if the ICO has a strong marketing campaign in place and it creates a lot of hype – the tokens could continue increasing. This is why it's important to have a clear strategy in place before the ICO tokens are listed on an exchange.
In another example, the Chimpzee ICO is currently in its latter stages. Nevertheless, investors can buy CHMPZ tokens at just $0.001 right now. After the ICO, the tokens will be listed on an exchange at $0.00185. This offers an immediate upside of 85%
There are Many ICOs to Choose From; Invest in a Concept You Believe in
Although the ICO market is oversaturated, this also comes with its benefits. Put simply, having such a large number of ICOs to choose from allows you to invest in a concept you believe in.
For example, if you're passionate about the future of artificial intelligence and predictive models, you might like yPredict. This project will offer a subscription-based ecosystem that is built by data scientists and quant traders.
If you're more interested in sustainable investment causes, you might like Chimpzee. This project allows investors to earn passive income through NFT trading fee rebates, play-to-earn rewards, and staking interest. Chimpzee donates a percentage of its revenues to endangered animals and other worthwhile causes.
Some of you might instead want to focus on meme coins. After all, meme coins are super-hot in the cryptocurrency markets right now. Even though the broader markets are bearish, meme coins like Pepe have generated huge returns. If you're looking for the best meme coin ICOs, check out Wall Street Memes and Sonik.
That being said, the cryptocurrency markets are unpredictable. Trends can change at a moment's notice, so it's best to diversify across many different ICOs. You usually only need to invest a few dollars in each ICO, as minimum requirements rarely apply.
ICO Investments are Suitable for Short and Long-Term Strategies
ICOs are suitable for all types of investor profiles. This includes both short and long-term strategies. For example, if you're looking for a quick entry and exit, you might consider an ICO that offers an immediate upside. This means buying the ICO token at a lower price than its exchange listing.
Once the exchange listing takes place, you can then offload your tokens and lock in your gains. Some investors prefer to hold onto their ICO tokens for several days or weeks after the exchange listing. This is because some ICO tokens can generate significant returns in a short period of time.
For example, it took just three weeks for Pepe to generate returns of 70x. And as noted earlier, Lucky Block required just a month to grow by 64x.
All that being said, if you're looking for 'life-changing' gains, then you might need to consider a much longer-term strategy. History suggests that the best-performing ICO investments were held for several years. For instance, while Ethereum has grown by 15,777x since its 2014 IPO, investors needed to wait until late 2021 to achieve these gains.
Crucially, if you're investing in an ICO with solid utility and a huge target market, long-term investing is often the way to go. But you will need to regularly check in on your investments. For instance, assessing the project's progress in comparison to its roadmap objectives. As long as it continues to meet its goal, you could see continued growth.
How to Find the Best New ICOs to Invest in
Finding the best upcoming crypto ICO can be a cumbersome task. Not only are there a significant number of ICOs launching every week, but very few offer a viable investment prospect.
We'll now point you in the right direction so that you can find quality new crypto ICOs with ease.
ICO Calendars
A great starting point is the ICOBench.com website. Our ICO calendar offers real-time information on the best upcoming initial coin offerings. You can view key information such as the name of the ICO project, which blockchain network it is built on, and the start and end dates.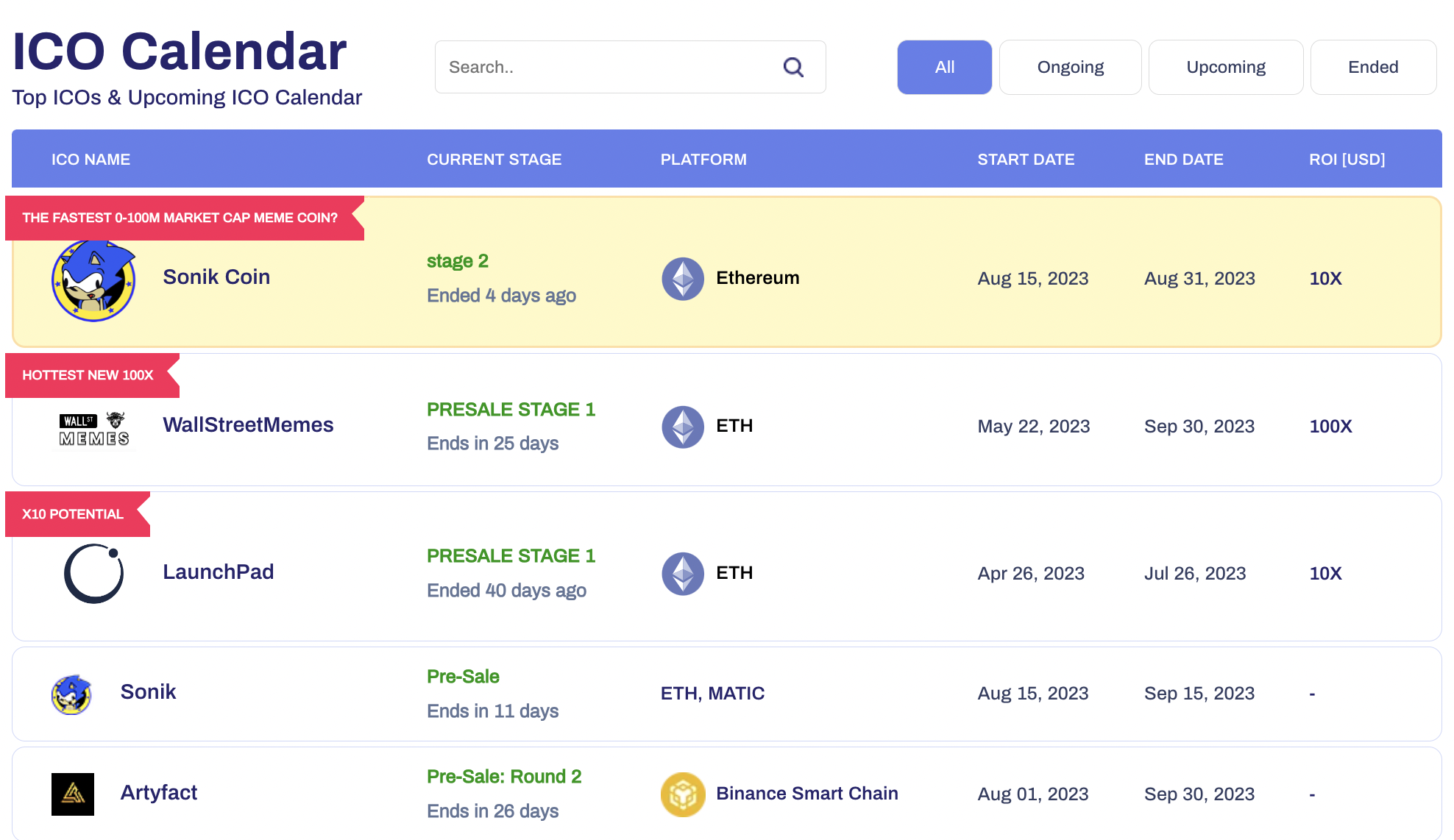 You'll also find a link directly to the ICO project's website. This enables you to do your own research – something that is crucial when investing in ICOs.
In addition, CoinMarketCap also has an ICO calendar, albeit, with a limited number of entries.
Join Reddit Groups 
Many investors use Reddit to find the best upcoming ICOs. Newly launched projects – especially those on a tight budget, will use Reddit to spread the word about their fundraising campaign. They'll also post information on why their project could be huge and reply to any questions from the Reddit community.
Consider joining the r/ICO subreddit, which has over 53,000 members. Another subreddit to join is r/ICOAnalysis. With over 33,000 members, the group is aimed at in-depth discussions and analysis of upcoming ICOs.
If you're looking for a much larger subreddit, check out r/SatoshiStreetBets. While this isn't specifically linked to upcoming ICOs, the focus is on finding the next 100x cryptocurrencies. Some of the best altcoins have appeared in this group, so it's worth joining.
IEOs via Established Exchanges  
While not strictly an ICO, IEOs (initial exchange offerings) work much the same. So what is an IEO? In simple terms, IEOs allow new cryptocurrency projects to raise funds via a reputable exchange. This means that the exchange takes care of the fundamentals – such as collecting cryptocurrencies from investors and distributing tokens after the IEO.
One of the core benefits of IEOs is that exchanges can KYC their clients. Not only does this provide a safe environment for investors, but it also opens the door to fiat money purchases. In other words, IEOs allow investors to buy tokens with a debit/credit card or bank wire.
Crucially, just like ICOs, IEOs will be traded on exchanges after they are completed. Naturally, this will usually be the same exchange that facilitated the IEO.
Binance was one of the first pioneers of IEOs.
It facilitates IEOs through the Binance Launchpad.
BitTorrent Token was the first IEO to launch on Binance – it raised its hard cap target of $7.1 million in under 15 minutes.
After the IEO, BitTorrent Token was listed on exchanges at $0.0004684.
Just over two years later, BitTorrent Token hit all-time highs of $0.01426 – meaning early investors secured gains of nearly 3,000%.
Binance isn't the only IEO platform to research. You can also consider the following providers:
KuCoin Spotlight
Huobi Prime
OKEx Jumpstart
Gate.io Startup
Another benefit of IEOs is that they can instantly reach a huge audience. For example, exchanges like Binance and Huobi have millions of active traders.
Check Out Popular YouTubers That Specialize in ICOs   
YouTube is home to many crypto enthusiasts, some of which specialize in upcoming ICOs and the best cryptos. For example, Jacob Bury's YouTube channel is a popular destination for ICO investors. Bury does all of the hard work behind the scenes and presents his findings via concise video reviews.
This includes finding upcoming ICOs, researching the whitepaper, and evaluating its price potential. Jacob Bury tipped Lucky Block in the first stage of its January 2022 ICO. As we mentioned earlier, Lucky Block investors saw gains of 64x after the ICO finished.
If you're wondering which ICOs Jacob Bury is talking about right now, he's extremely strong on Wall Street Memes. In fact, Bury posted his first video analysis on Wall Street Memes just hours after its ICO launched. Wall Street Memes is now in the final stages of its ICO, having raised over $25 million.
Telegram Channels Dedicated to ICOs 
Telegram is also worth checking out when searching for the best upcoming ICOs. You'll need to do some research to find suitable groups, as there isn't a centralized directory available. Nonetheless, you'll find suitable groups by searching for something like 'Telegram ICO Channels' on Google.
For example, we came across the ICO SPEAKS NEWS channel, which has over 530,000 subscribers. This popular channel not only covers upcoming ICOs but it also reviews them. Crucially, ICO SPEAKS NEWS has a huge audience, so its recommendations can lead to a lot of investor interest.
Potential Risks of Upcoming ICOs
We must stress that the risk of loss when investing in ICOs is very high. This is a very oversaturated market and there is only so much investor capital available. In other words, not all ICO projects can generate gains of 10x or more – especially in today's bearish cycle. On the contrary, many ICO investments will result in a loss.
Let's break down some of the key risks to consider when searching for upcoming ICOs.
ICO Tokens Decline in Price After the Exchange Listing
One of the biggest risks is that the ICO tokens decline in value after the exchange listing. For example, suppose you buy an ICO token at $1. After the ICO, the project lists the token on an exchange at $1.20. In theory, this offers an ICO upside of 20%. However, as soon as the tokens are listed, the price declines to $0.80 within minutes.
There could be several reasons why this happens. First, due to the immediate upside available, many ICO investors might have instantly cashed their gains out. This can push the token's price down rapidly – meaning if you missed out, you're now looking at an ICO loss. Of course, the price can reverse if more buyers enter the market.
Newly launched cryptocurrencies can also decline below their ICO price if the project's team begins dumping their tokens. The best way to prevent this is to avoid ICOs that don't have a vesting agreement in place. For example, the smart contract might prevent the team from selling their tokens for at least one year after the ICO finishes.
Scam Projects, Hacks, and Smart Contract Vulnerabilities 
There are many scams related to the ICO industry. You can avoid becoming a victim by knowing what to look for.
First, consider that some ICOs are simply scams themselves.
The ICO will come up with an innovative 'idea' and create a solid whitepaper.
It will then collect funds from investors, even though it has no intention of working towards its whitepaper objectives.
Instead, the ICO is simply looking to collect as much money as it can before disappearing.
The scam ICO can sell the established cryptocurrencies that it raised.
Fortunately, blockchain analytics are becoming more advanced, so many ICO scammers are being identified when they attempt to cash out.
Another scam to look for is 'imitation websites'.  Here's how it works; a scammer creates a website that imitates a legitimate ICO. The scammer will run a Google ad campaign, targeting search terms related to the ICO campaign. Unwittingly, somebody visits the imitation website and connects their wallet.
The scammers then steal all of the cryptocurrency tokens held in the victim's wallet. To avoid becoming a victim yourself, always check that you are visiting the ICO's official website. You can usually verify this through other channels, such as Telegram or Reddit.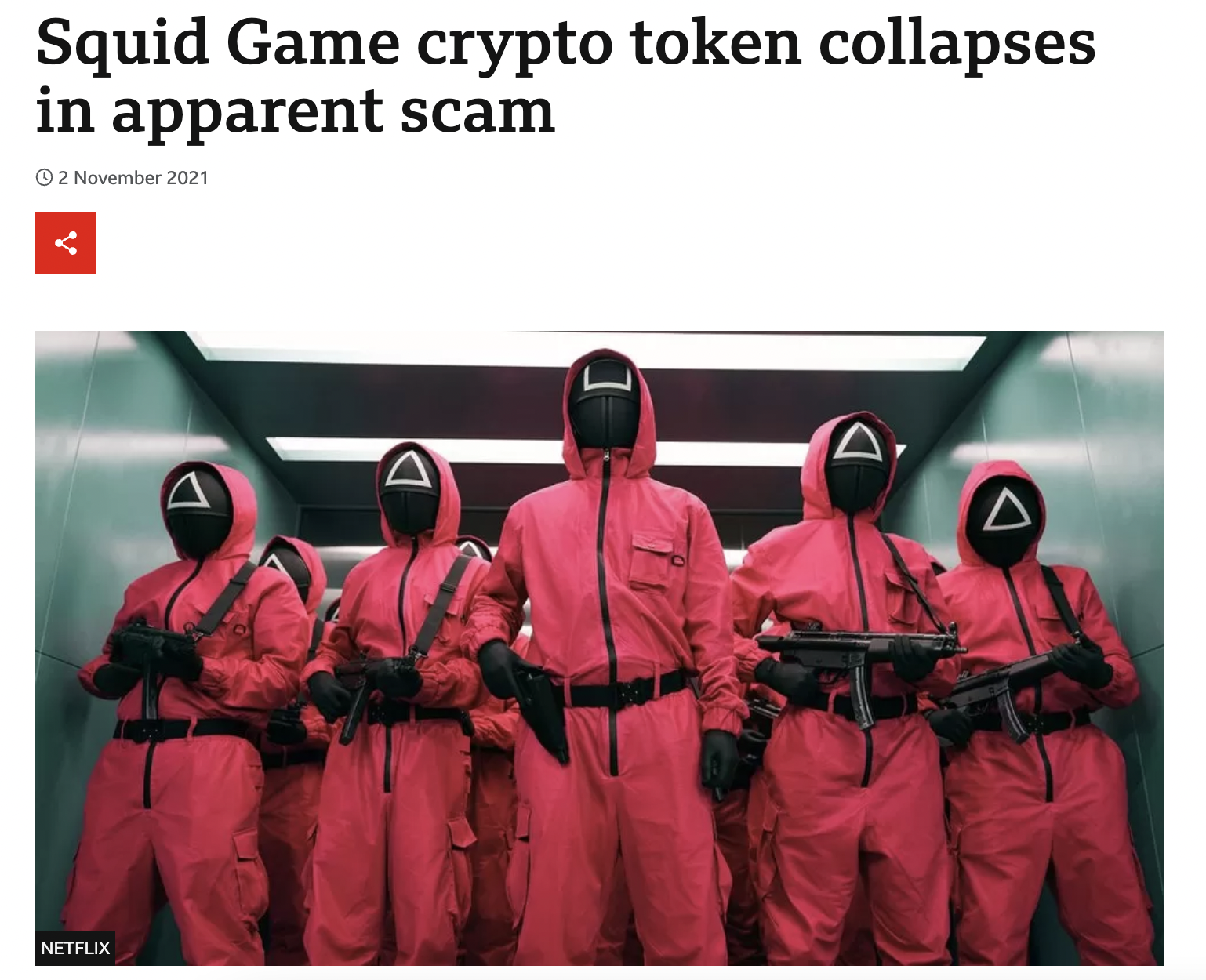 In addition, you'll need to ensure that the ICO's smart contract has been adequately audited. If there are any contract vulnerabilities identified, it's best to walk away. For example, in late 2021, the BBC reported on an ICO scam called Squid Game token.
After launching, the token went from $0.01 to $2,856 in less than a week. While investors were seeing life-changing gains, there was one caveat – Squid Game token's smart contract prevented people from selling. Once the scam was identified, Squid Game token lost 99% of its value in minutes.
Conclusion
In summary, ICOs allow you to invest in a brand-new cryptocurrency before it begins trading on exchanges. We've highlighted the 16 best upcoming ICOs to keep an eye on in 2023.
Our number one pick would have to be Bitcoin Minetrix, which could revolutionize the BTC mining industry with its inventive and easy-to-use solution.
It opens up the market in terms of access and has seen huge investor interest, on top of offering very high APY yields for investors.
References
FAQs
What is the best upcoming ICO?
How do I find upcoming ICOs?